Jun 23, 2021
Comparing Flexographic vs. Digital Printing Systems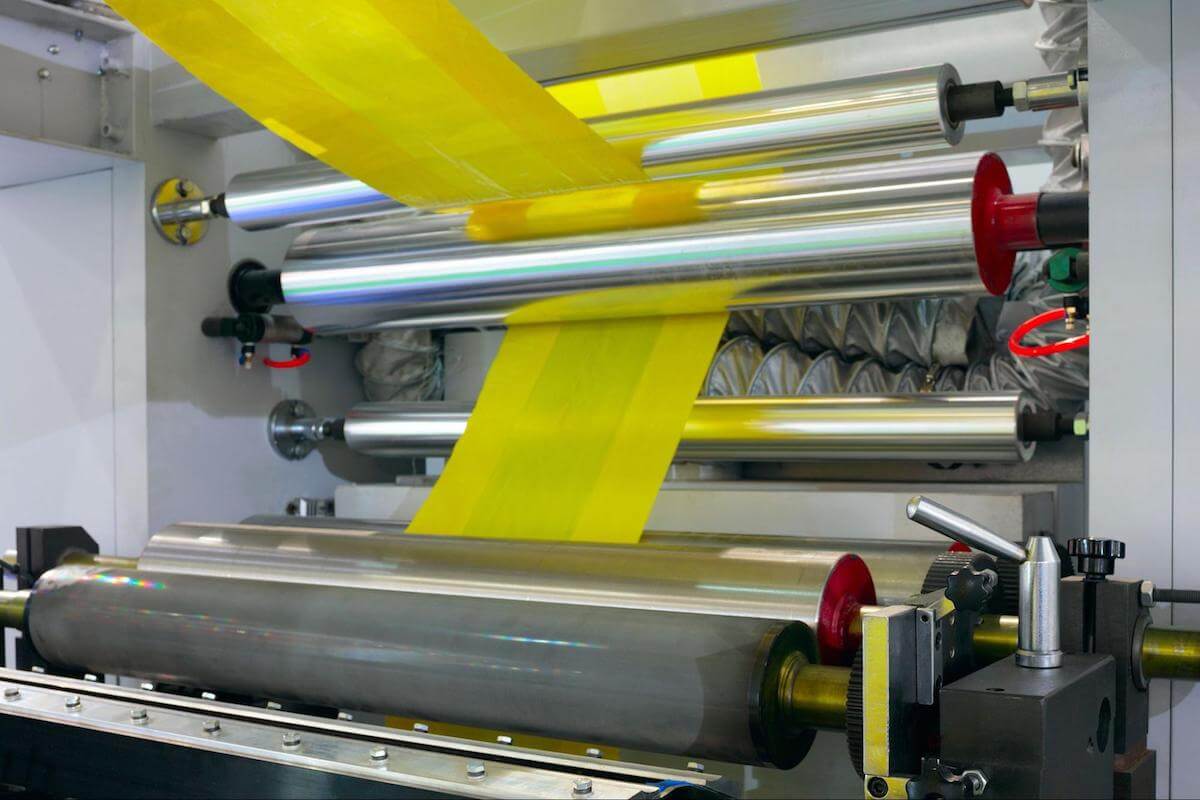 Kao Collins Inkjet Inks Reduce Downtime
Download
As inkjet printing evolves with systems running at faster speeds and more choices of inks, there are reasons to consider digital printing over analog flexo systems. Each platform offers unique business and production advantages.
First, let's clarify what exactly we mean when use the terms "digital printing" and "flexographic printing":
What is Industrial Inkjet (Digital) Printing?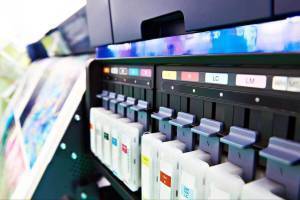 Industrial inkjet, or "digital printing," refers to a non-contact printing process where the ink is jetted or propelled onto the product or substrate to produce the images and text. The ink's pigments or dyes are distributed over the surface material, which is typically made of either paper, canvas, fabrics, glass, and others, or some combination of these.
Common Digital Printing Applications and Industries
Versatile and high-speed digital printing technologies have extended widely into numerous industries, offering new options for industrial printing on substrates such as: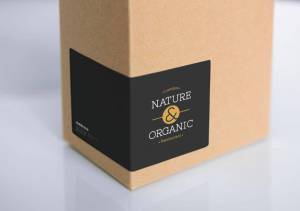 Plastic films and foils
Release liners
Glass, plastic, and metal containers
Wide-format printing of textiles and signage
Paper and corrugated cardboard
Ceramics
Others
Pros and Cons of Digital Printing
Inkjet technology offers distinct advantages for industrial printers:
Quick turnaround: Setup is fast and jobs can be completed quickly because digital printing eliminates costly and time-consuming pre-press production of plates needed for analog presses.
Low-volume jobs: Thanks to the quick turnaround, digital inkjet printing is ideal for low-volume projects and short runs–both of which are becoming more common in an agile marketing world.
Contact Kao Collins for Ink Solutions
Contact
Increased consistency: Computers manage the job for digital printing systems, leaving less room for human error.
Variable data handling: With a digital backbone, industrial inkjet printing offers mass customization and personalization for branding, multiple SKUs, or marking and coding needs.
Touchless: The substrate does not contact the jetting system of inkjet printers, which eliminates potential damage to a substrate that can happen with analog presses.
However, digital printing still comes with some disadvantages:
Ink limitations: Some digital printing inks may fade more quickly than flexographic inks in direct sunlight. This is usually only noticeable on items used outdoors over a long (or indefinite) time. As new inkjet ink formulations are developed, these differences are narrowing.
Limited in-line processes: Add-on processes for embellishing inkjet-printed designs may be limited. As the industry evolves, more options are becoming available.
Lower durability: Labels created on a digital press don't last as long or stand up to the elements the way labels created using flexo presses often do.
What is Flexographic Printing?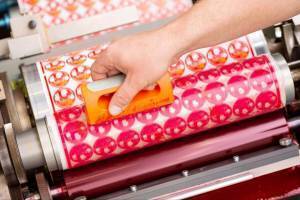 In contrast to digital inkjet, flexographic printing technology utilizes flexible plates and mechanical rotary-style equipment for mass production. The process begins by creating the printing plate using a variety of methods and assembling the apparatus that holds it, known as a plate cylinder. Then, the stock is fed into the rotary press, where ink is transferred from the ink tank to the ink roll to the plate.
Once evenly distributed over the plate, the image and text are imprinted upon the stock's surface. A flexible photopolymer plate is wrapped around a rotating cylinder for each color. Like letterpress printing, graphics and text are raised from the surface of the plate. Only the raised areas of the plate are inked.
Common Flexo Printing Applications and Industries
Flexographic printing adapts well to different materials and can use a wide range of inks, like water-based rather than oil-based inks. This makes flexo printing more adaptable for specific printing applications, including:
Corrugated boxes and paperboard
Flexible packaging
Food and pharmaceutical packaging
Direct mail
Newspaper and magazine publishing
Pros and Cons of Flexographic Printing
Flexo printing technology offers a few advantages for industrial printers:
Speed: Flexographic presses run at extremely fast speeds
Versatility: It prints on a wide variety of substrate materials
Maintenance Cost: It uses costly equipment that requires little maintenance
Consumables: It uses relatively low-cost consumables
Cost-efficient: Flexo systems are ideally suited for long runs
Secondary finishing: Handles all printing, varnishing, laminating, and die-cutting in a single pass
High Quality: Flexo delivers excellent reproduction of logos and text, adding value to your product
There are still a few disadvantages of using flexo printing systems:
Complexity: Flexographic presses are complex because of the many mechanical components and adjustment controls involved with the process.
Lengthy Prepress: A flexographic press takes time to set up. The more colors needed, the longer the set-up time will be. Each color printed requires a plate, which increases costs.
Costly: Flexographic printing is expensive and not economical for short print runs.
Operational Experience: Due to its complexity, flexo printing equipment can only be operated by trained staff.
Hybrid Printing – Combining Digital and Flexo
Hybrid industrial printing systems combine the advantages of digital printing systems into flexographic printing, offering printers hesitant to migrate from flexographic because of the existing investment.
Hybrid printing systems offer the following advantages: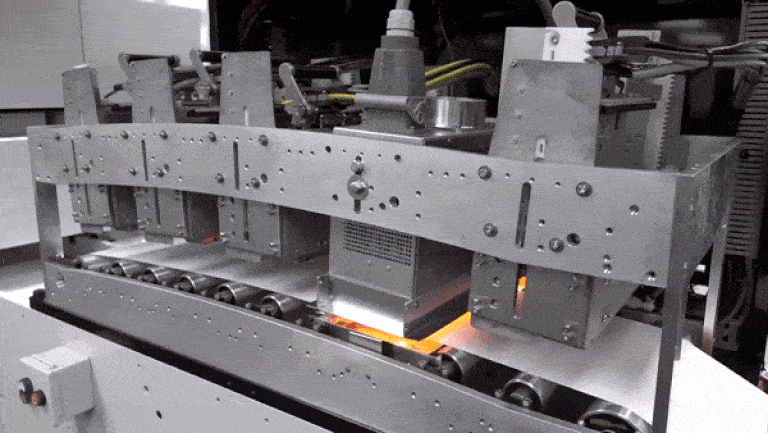 Enables you to serve more market segments because you can combine several printing techniques and utilize the advantages.
Increased production is a key benefit of hybrid printing; it enables more work to be done in a shorter time.
The prime example is the  Colordyne-Kao Collins partnership that focuses on reaching new markets with a complete solution comprising high-quality equipment and custom ink sets through hybrid printing.
Why Convert from Flexo to Inkjet?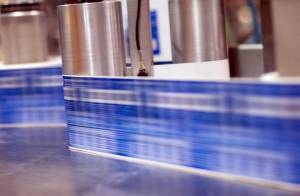 When it comes to choosing between digital printing vs. flexographic printing methods, there are various considerations that should guide your decision to choose one print technology or the other. Some companies may find that a combination of digital and flexographic printing systems is the best approach to suit their needs, especially if they have various products that need to be printed.
Converting from flexo to inkjet printing offers several advantages to consider:
Return On Investment
Your budget will be a significant factor when choosing which type of printing you want for your labels. Digital printing is generally cheaper because of the lack of plate production that is essential for flexographic printing. However, as we mentioned above, the label quantity is a determinant in choosing a printing platform to optimize your cost per label.
Your label design, any special printing techniques, and your substrate choice will affect your cost as well. You'll have to weigh your options and decide what is best for you and, as an extension, what is best for your budget. From the business perspective and price considerations, inkjet printing is the preferred choice.
Specialized Effects
In general, flexographic printing can produce more intricate designs and can incorporate a wider variety of print techniques and specialty effects. Digital printing is somewhat limited in its capability compared to flexo, which can apply techniques such as foiling and backprinting.
However, digital printing can supplement some specialty techniques to mimic what flexographic printing can do. Printing on metallic substrates, applying heavy varnish and curing with UV light, and various gloss and matte varnish combinations can create intricate and eye-catching details.
Label Quantity
When you have very high bulk quantities to print like 5,000 plus labels, flexographic printing produces more labels at a given time at a faster speed.
However, if your print run is for a seasonal product, limited edition, or you just want to test out new branding, digital printing is going to be the optimal choice for you.  Smaller label quantities are going to be most cost-effective using digital printing techniques.
Flexo vs. Inkjet Printing – Pros and Cons
Pros
Cons
Flexo Printing
High print speeds
Complex equipment
Many substrate options
Higher setup time
Suited for long runs
Higher maintenance and more cleaning required
Handles Multiple Prints in a Single Pass
Extremely expensive
Excellent Reproduction Quality
Not cost effective for short runs
Exact color matching
More environmental waste
Can only be operated by skilled operators
Digital Inkjet Printing
Quick turnaround time
May have limited color palette
Ideal for low-volume jobs
Lower durability when cutting or folding
Less make-ready, less waste
Fewer in-line processes for embellishment
Increased print consistency
Not cost-effective for large print runs
Infinite customization to support printing variable data
Higher cost of inks
Ease of operation (no extensive training required)
Low cost of entry
Contact Kao Collins about our wide range of industrial inks for your substrate. Our chemists and engineers can create custom formulations to meet your technical specifications.
Download Our Guides to Inks for Improving Performance