Jan 30, 2019
Digital Printing Stands Out at 2018 International Graphic Arts Show

There always comes a time when technologies become slightly outdated and newer, more efficient technology becomes the norm. Think of the progression from iPods to live streaming services like Apple Music, Pandora, and Spotify. While iPods can still be useful, the majority of today's music fans are using streaming services because they're more convenient.
In the world of print, digital printing is starting to push offset printing to the backburner, as was showcased at the 2018 International Graphic Arts Show (IGAS).
The Rise of Digital Printing at IGAS
At the 2018 IGAS, digital printing made its case as the new, preferred method of printing. While offset printing still holds plenty of value, the growing list of benefits for digital printing was on full display at IGAS.
Exhibitors at IGAS displayed how digital printing technology can help create new markets, particularly with product packaging. Several booths at IGAS showcased the capabilities of digital printing on flexible packaging, like how they can be printed quickly, cost-efficiently, and with more options for customization.
Kao's LUNAJET ink, an eco-friendly, water-based pigment ink designed for flexible food packaging, was one such ink demonstrated at IGAS. Kao used LUNAJET ink to print on a variety of substrates in their trade show booth, including aluminum cans, labels and polyester (PET) film, PVC film for stickers, polypropylene (PP) synthetic paper, metalized PET film, white PET paper, polyurethane for t-shirts, and more. In tandem with the printing demonstrations, Kao also featured a series of videos in their booth that introduced several ink technologies from their U.S.-based counterpart, Kao Collins.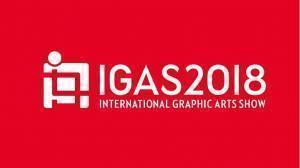 These demonstrations from 2018 IGAS were merely a glimpse at how digital printing is reshaping the print industry. The variety of different substrates Kao was able to print on was eye-opening for many attendees, as was the printing speed. Perhaps most importantly, digital printing is showing manufacturers from all industries just how valuable it can be when compared to offset printing.
Discover the Endless Possibilities of Digital Printing
As 2018 IGAS proved, digital printing is allowing manufacturers to print more quickly, efficiently, and customizable than ever before. Specific digital print inks, like LUNAJET, are printing high-quality on substrates that have historically been a challenge to print on. These recent developments not only show the excitement in the print world for digital printing but also indicate the passing of the baton as offset printing becomes the less popular and ideal print option.
Contact us today to discuss LUNAJET and other specialty inks.