Offset Printing
Traditional offset printing is a print method that uses aluminum plates to transfer ink onto a rubber sheet (often referred to as a "blanket")  The image is then rolled onto the printing surface. This printing method is considered "offset" is because the ink is not transferred to the paper directly.  
Industries benefiting from inkjet printing
This method is generally considered the best option when printing large quantities. Although there is a significant initial cost to set-up the equipment, additional units become relatively less expensive as quantity increases.
Offset printing allows for a wide range of print materials to be used during production.  
It allows the printer to use different paper types, custom finishes, and a wide variety of inks. The high-quality images produced through offset printing make it the preferred method, especially among graphic designers, when seeking the greatest level of color reproduction, detail, and professional-looking prints.
Digital Printing
In digital printing, ink is transferred directly onto the surface.  Rather than relying on aluminum plates and rubber blankets to transfer an image, digital printing uses liquid ink during production. Traditional home inkjet printers are one of the most common digital printing methods.
Industries benefiting from inkjet
Textiles

Ecommerce

Ceramics

Wallpaper
Digital printing requires no manual setup. It's extremely effective for use with smaller quantity runs. In fact, it is far more cost-effective than offset printing for low volume projects.
Because of the lack of set-up, digital printing is also a quick process, capable of completing projects on short notice or finishing a job when a deadline is quickly approaching. Digital printing also offers maximum customization.
Each piece can be customized, making this method extremely effective if a job needs to have personalized customer names.
Choosing a Printing Method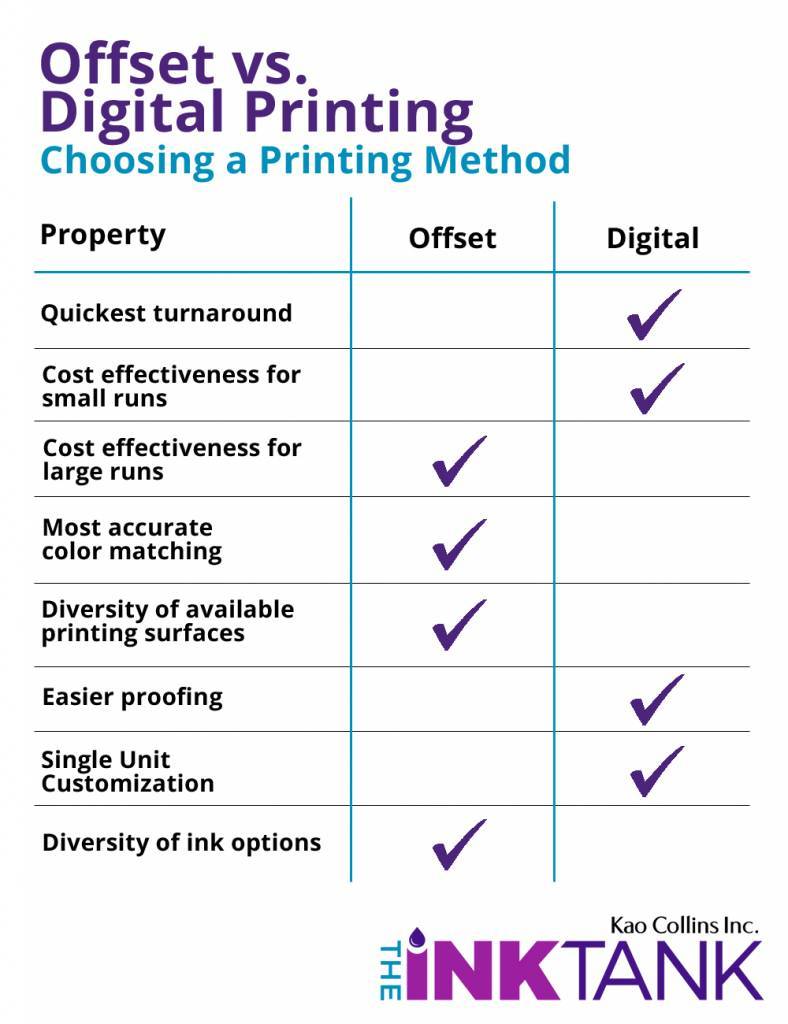 Though traditional offset printing and digital printing are both extremely useful methods, each possesses their own particular advantages and disadvantages.  In the end, the decision you make regarding your printing process will depend on the specifics of your project. Using the side-by-side table above will help determine the right printing method for your project.
---
Reasonable effort has been made to review and verify information in this document. Neither Kao Collins and its partners nor the technical reviewers and their agencies assume responsibility for completeness and accuracy of the information, or its interpretation. The reader is responsible for making the appropriate decisions with respect to their operation, specific materials employed, work practices, equipment, and regulatory obligations. It is imperative to verify current applicable regulatory requirements with state and/or local regulatory agencies.