Kao Collins manufactures standard or customized ink formulations that are suitable for inkjet printing on food packaging. Choosing the best ink depends on the packaging requirements for your food products.
Inks for Food Product Marking, Coding, and Packaging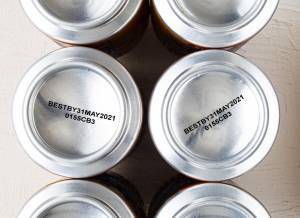 Manufacturers are turning to industrial inkjet printing for marking and coding of food products with variable data to meet increasingly stringent food industry regulations for tracking products with lot codes and precise expiration information.
Brands also produce shorter-run packaging for variations in sizes, unique flavors, and customization for regional marketing that supports changing consumer demand and tastes. Inkjet printing offers the most cost-effective workflow for product versioning.
The primary concern for food companies regarding any ink they use on products or packaging is the need to prevent contamination through ink migration. Ink must be evaluated and validated for compatibility with the packaging substrate and potential environmental interactions that could affect food safety and quality.
---
Marking and Coding
Inks used to mark and code products are typically applied to the outside of the product packaging in order to comply with industry regulations in various countries, and also to help consumers. Manufacturers must ensure that their packaging serves as a functional barrier that prevents any migration of the ink chemicals. Tin, aluminum, glass, plastic, and laminated materials are generally considered absolute barriers that prevent ink migration. Testing for any substrate is advised.
Solvent Thermal Inkjet Inks
Kao Collins produces a number of solvent inks with many benefits for both HP and Funai printing systems, including optimal results for marking and coding products that feature metals, glass, films, and other non-porous packaging.
Key Benefits
Industry-leading decap
Fast drying
Excellent adhesion
Long shelf life
Much lower VOC exposure compared to CIJ
---
Talk to Kao Collins Experts
About These TIJ Solvent Inks
SIGMA Solvent Ink is compatible with HP 45si cartridges, offering the benefits of a 12-hour decap and deeper blacks.
NEXXO Solvent Ink is formulated to work with Funai's new solvent-compatible cartridges with a 10mm throw distance that can print on curved surfaces, such as bottles and the bottom of beverage cans.