Food Packaging Inks
Kao Collins manufactures standard and customized ink formulations that are suitable for inkjet printing on food packaging. Choosing the best ink depends on the packaging requirements for your food products.
Inks for Marking, Coding, and Packaging Food Products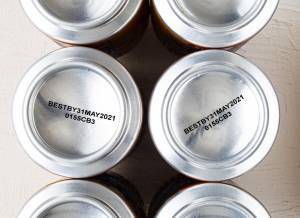 Manufacturers are turning to industrial inkjet printing systems for the marking and coding of food products with variable data, helping their customers to meet increasingly stringent food industry regulations for tracking products.
Brands are also printing short-run food packaging to accommodate design variations for different food product sizes, shapes, unique flavors, eco-friendliness, and other customization for dynamic marketing and branding that reflects changing consumer demand and tastes.
Digital printing offers the most cost-effective workflow for product versioning, enabling brands to execute agile marketing campaigns and offer dynamic buying experiences that appeal to consumers by conveying the freshness and quality of the food product.
---
Marking and Coding Non-Porous & Porous Food Packaging
Kao Collins produces both solvent inks and water-based inks for inkjet marking and coding on food packaging. The best choice of inkjet ink for your application depends on the food packaging material(s) and your requirements for ink performance.
Solvent Inks (TIJ)
Kao Collins produces a number of solvent inks that offer high performance for both HP and Funai printing systems, including optimal printing results for marking and coding food products that feature metals, glass, films, and other non-porous packaging substrates.
Key Benefits
Industry-leading decap
Fast drying
Excellent adhesion
Long shelf life
Much lower VOC exposure (compared to CIJ)
Talk to Kao Collins Experts
About These TIJ Solvent Inks
SIGMA Solvent Ink is compatible with HP 45si cartridges, offering the benefits of a 12-hour decap and deeper blacks.
NEXXO Solvent Ink is formulated to work with Funai's new solvent-compatible cartridges, offering a 10mm throw distance that can print on curved surfaces, such as bottles and the bottom of beverage cans.
---
Inks for Food Packaging and Food Labels
Catching the consumer's attention and creating visual appeal with product packaging is critical in today's competitive marketplace. Kao Collins produces inks for printing directly on food packaging or on food labels. These food-grade ink formulations should be evaluated for possible migration by testing the packaging substrate that will be printed.
Key Benefits
Fast curing or drying
Vibrant colors
Print on films, foils, flexible packaging
Extremely low VOCs
LUNAJET Water-Based Pigment Ink – Our patented LUNAJET ink does what other water-based inks can't achieve with adhesion on flexible packaging, thin films, plastics and other non-porous substrates. It is an eco-friendly water-based ink, and the formulation produces a flexible finish without cracking or peeling.
QUANTA EB-Curable Ink – Our electron-beam curable ink offers low-migration risk and eliminates any concerns about photoinitiators and heat from curing lamps. These CMYK inks for Piezo printing systems release no odors and are non-hazardous.
TESLA LED-Curable Ink – For food packaging applications, our LED-curable inks produce high-quality results without the risk of substrates being compromised by heat-producing mercury lamps. Our LED inks incorporate the highest quality photoinitiators and monomers to deliver superior durability.
ULTRA UV-Curable Ink – Our UV-curable ink offers instant curing, high print quality, adhesion, scratch resistance, and no volatile organic compounds (VOCs). We manufacture cationic and free-radical formulations.
---
Talk to Kao Collins Experts
About These Packaging Inks
"*" indicates required fields