Feb 24, 2020
Hybrid Inkjet Solutions Take The Stage at Kao Innovation Day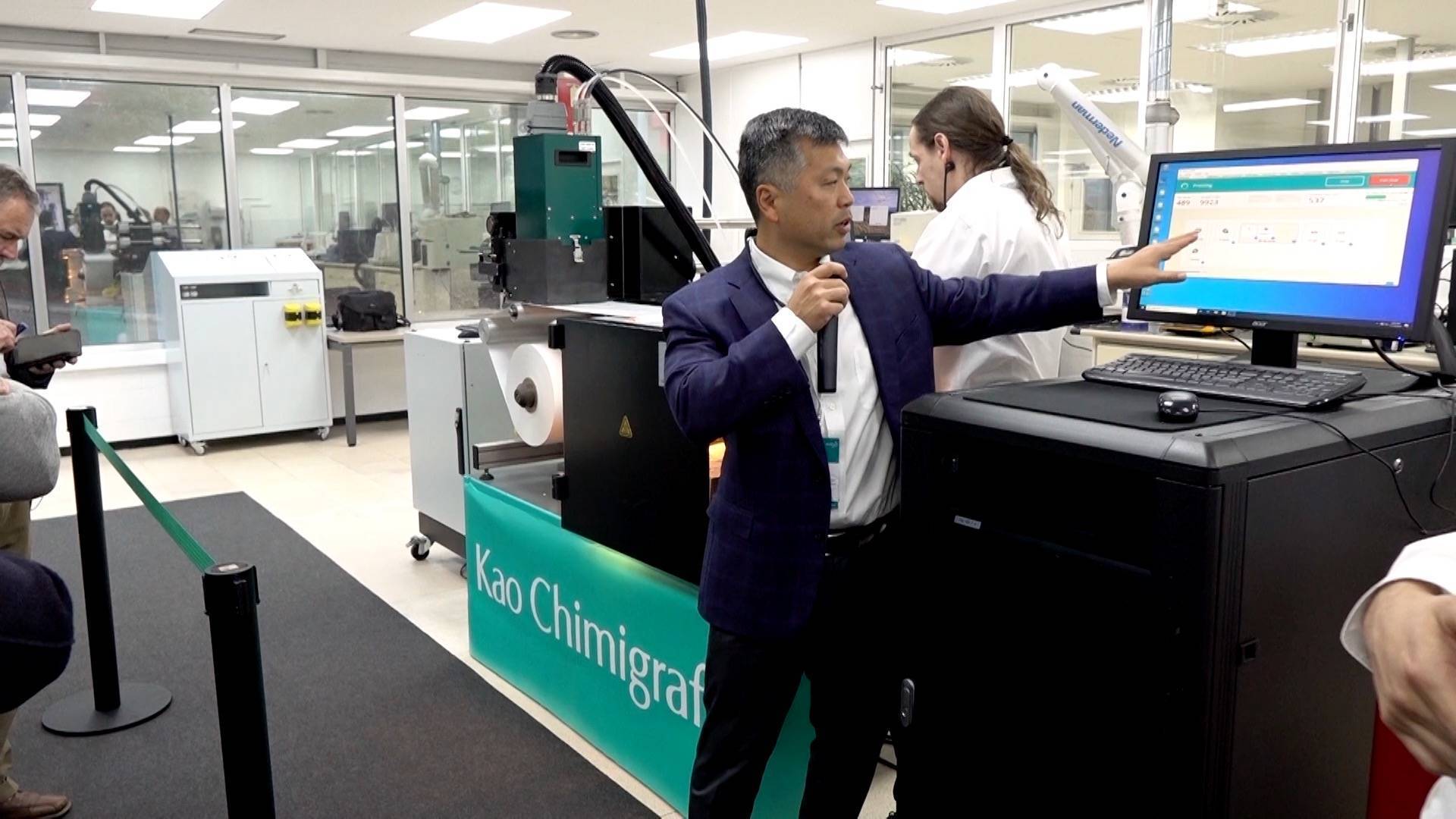 New industrial inkjet print modules and inkjet inks were the featured stars at the first Kao Innovation Day in mid-November. The inkjet printing show didn't disappoint.
The event highlighted the Kao Collins high-performance UV-curable and water-based inks and the Colordyne 3600 Series technology, two revolutionary new Memjet systems that use Fujifilm's Samba technology. These retrofitting solutions add exceptional printing value while reducing costly downtime for industrial inkjet printers.
Satoshi Kunii, a Kao Corporation senior research chemist in Japan, expressed his dedication to turning scientific discoveries into inkjet technology.
Kao Chimigraf, a Kao Collins sister-company based in Barcelona, Spain, hosted the event, attracting representatives from 22 companies based in 6 different countries, highlighting the European partnership between Kao Collins and Colordyne Technologies.
"Our partnership with Colordyne demonstrates our commitment to delivering the best solutions to our customers," said Kristin Adams, Marketing Manager at Kao Collins.
X-BAR Contributes to Sustainable Production
X-BAR Print Module Benefits
Reduced downtime

Reduce ink use by 50% for savings and sustainability

10,000-20,000 hours of life expectancy

1,000 ft. per minute speed

Cost-effective alternative to a new printer
The attendees got a close-up demonstration of the
Kao Collins X-BAR
print module and
Universal Controller
. The X-BAR is designed to replace print modules on Kodak Versamark Printing Systems, delivering higher speed and quality while reducing ink consumption up to 50%.
Using less ink not only reduces expenses but also supports sustainability goals for inkjet production.
Importantly, the X-BAR reduces downtime with these Kodak systems, resetting in minutes, not hours.
The systems excel at printing transactional and transpromo products, high-gloss coated stock, films, and foils using aqueous dye and pigment inks, pigment polymer, UV-curable, and EB-curable inks.
While the Universal Controller drives the X-BAR print module, event visitors learned it actually manages up to 16 X-BAR modules, 32 Versamark modules, or a combination of print modules.
Its flexible, user-friendly software can be adapted to drive other printing technologies as well.
Colordyne 3600 for Hybrid Inkjet Printing
For packaging and labeling companies looking to serve fast-growing market demand for personalized and customized solutions, the Colordyne 3600 Series multi-printhead systems allow flexographic printers to create a hybrid configuration. The Colordyne Technologies CMYK solution adds the flexibility of digital printing to traditional printing while keeping capital equipment costs lower.
Adding the inkjet system extends the printing opportunities for companies running flexo systems for product labels.
The cost-effectiveness of longer-run systems complements the cost-effectiveness of flexible digital printing.
For the event, Colordyne Technologies set up two multi-printhead systems at KAO Chimigraf's new Printing Demonstration Center at the Barberà del Vallès facilities, one using aqueous pigment and the other using UV/LED inkjet inks from Kao Collins.
Sergio Seguí, flexo and roto business manager at Kao Chimigraf, said, "We look forward to representing the UV and aqueous pigment inkjet print engines manufactured by Colordyne throughout Europe."
Kao Collins Inkjet Inks Contribute to High Performance
SIGMA
This latest Kao Collins innovation is a solvent ink for HP systems with a 24-month shelf and decap of over 12 hours.
Explore SIGMA 

Whether it's the X-BAR or Colordyne 3600 Series,
Kao Collins inks
play a pivotal role in maximizing inkjet printing quality.
Speaking about the Colordyne system's output quality, Taylor Buckthorpe, Director of Sales, said, "With the new advancements that have been made in the new Memjet technology, we're seeing superior water-fastness, superior light-fastness, and better scratch, scuff, and rough resistance–and that's largely due to the folks at Kao."
The Hybrid Solution Using Inkjet Technology
Sean Smyth, a print and packaging consultant, discussed the potential for inkjet printing in the label and packaging industry. The benefits, he said, include shorter production runs, customization, and the types of images to print.
Combining high-quality inkjet printing with cost-effective analog systems leverages the potential of both systems.
Kao Collins produces water-based inks and UV-curable inks for use in multiple inkjet printing systems.
Talk to Kao Collins about the right inks or custom inks to use in hybrid printing configurations.
Read more and contact us about the X-BAR print module and Universal Controller.