July 25, 2018
Inkjet Printing on Corrugated Cardboard No Longer an Outside-the-Box Solution
Corrugated cardboard boxes haven't changed much since 1891. Inkjet inks for printing labels, logos and other information must be durable to withstand human and natural forces.
Spurred by the demands of online retailers, especially behemoths like Amazon, inkjet printing increasingly delivers the solution for printing corrugated boxes in the need-it-now economy, when costs of freight and other factors are added to the calculus.
The utility of the humble cardboard box hasn't changed much since its introduction in 1891. Cardboard boxes today withstand considerable human and natural forces. The inks for printing labels, logos, and other information must be equally durable.
Inkjet Printing Challenges
Printing on plain brown boxes or even "up-scale" boxes must last long enough not to rub off, remain legible, and offer a level of visual appeal when necessary.

The boxes endure assembly lines for packing and shipping, whether through the slower ground delivery to next-day and now same-day delivery. The printing on all those boxes must withstand temperature fluctuations and human handling. Also, the printing must resist quick fading or effects nature's elements.
Some box finishes require extra consideration when choosing an ink. While many boxes are the traditional dull, brown, some businesses expect more and opt for boxes with a better finish for that branded look. These boxes often have a layer of semi-glossy white, or another color, paper over the corrugated cardboard. Inkjet ink manufacturers evaluate the substrate to deliver the best ink for the corrugated material.
READ MORE | Stretching the Limits of Inkjet Ink
Curing is another consideration in the ink formulation. The inks must dry on the substrate quickly in high-speed production systems yet remain fluid on the print heads to avoid costly downtime for upkeep.  Various curing systems are used across the industry, depending on the ink: forced air, ambient air or dryer.
Most of the inks used are water-based inks, which are typically cheaper than UV or solvent-based inks.
Dye or Pigment Inkjet Ink?
Generally, most inks used for box printing are pigmented. Marking and coding on corrugated boxes use black piezo inkjet inks, which are traditionally oil-based pigment inks. For marking and coding with thermal inkjet systems (TIJ), many printers employ a water-based pigment ink. Only some of the TIJ inks used are dye based.
Dye formulations are used most frequently in inkjet printing on cardboard. These formulations are less opaque but absorb well into the box.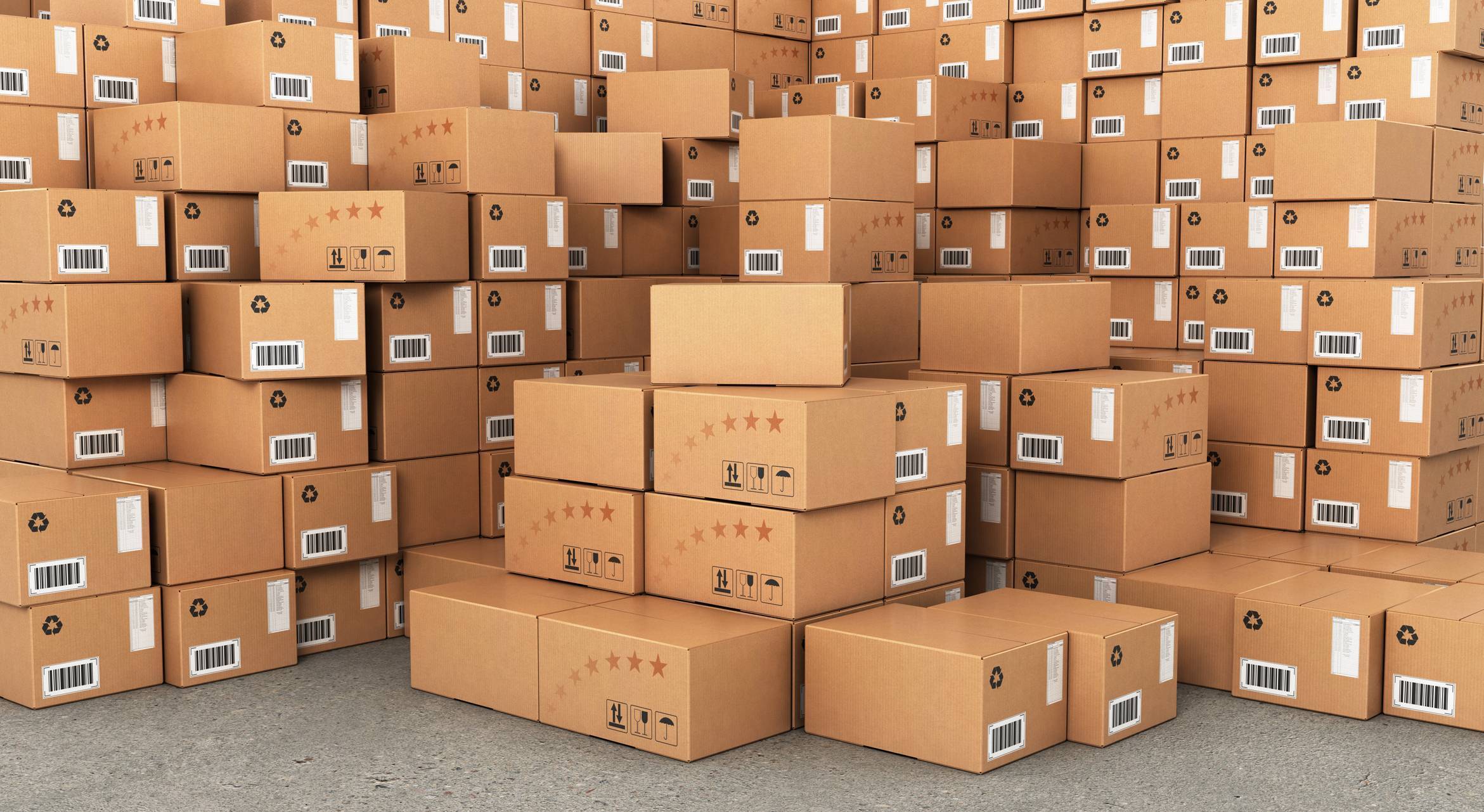 While most inkjet printing on cardboard projects are using black ink, a company may want their logo to reflect their identity through their brand color. Companies like Kao Collins analyze the color characteristics of the substrate to formulate an ink that matches the intended brand color.
Shifting Technology
Companies are opting for inkjet printing over the long-time methods of flexography, rotogravure and offset.
Until recently these legacy systems have had the advantage because they were cost-effective for high-speed, high-volume production. Massive printing presses produced the boxes that were shipped anywhere to the customer. The scale and volume of production justified the expensive printing infrastructure.
Using inkjet technology for cardboard printing allows companies to be nimble in producing boxes and avoid over-or-under-forecasting the amount of cardboard they'll need.
Needs have changed.
Businesses are demanding more flexibility. With the growth of e-commerce and the related shipping, companies are choosing inkjet. Companies are reluctant to lock into large orders of boxes based on speculation of consumer demand for products. Additionally, businesses are weighing the cost of the freight and warehousing of boxes.
Companies can affordably set up an inkjet printing operation for box production. And digital inkjet can be reconfigured more quickly.  Digital inkjet printing opens the door for personalized messages on the shipping boxes.
As inkjet technology continues to be more widely adopted, it can no longer be viewed as a printing option with only a few, specific uses. Indeed, with a little out-of-the-box thinking, inkjet printing will continue to flourish!