Sep 24, 2020
Why companies are choosing to insource their printing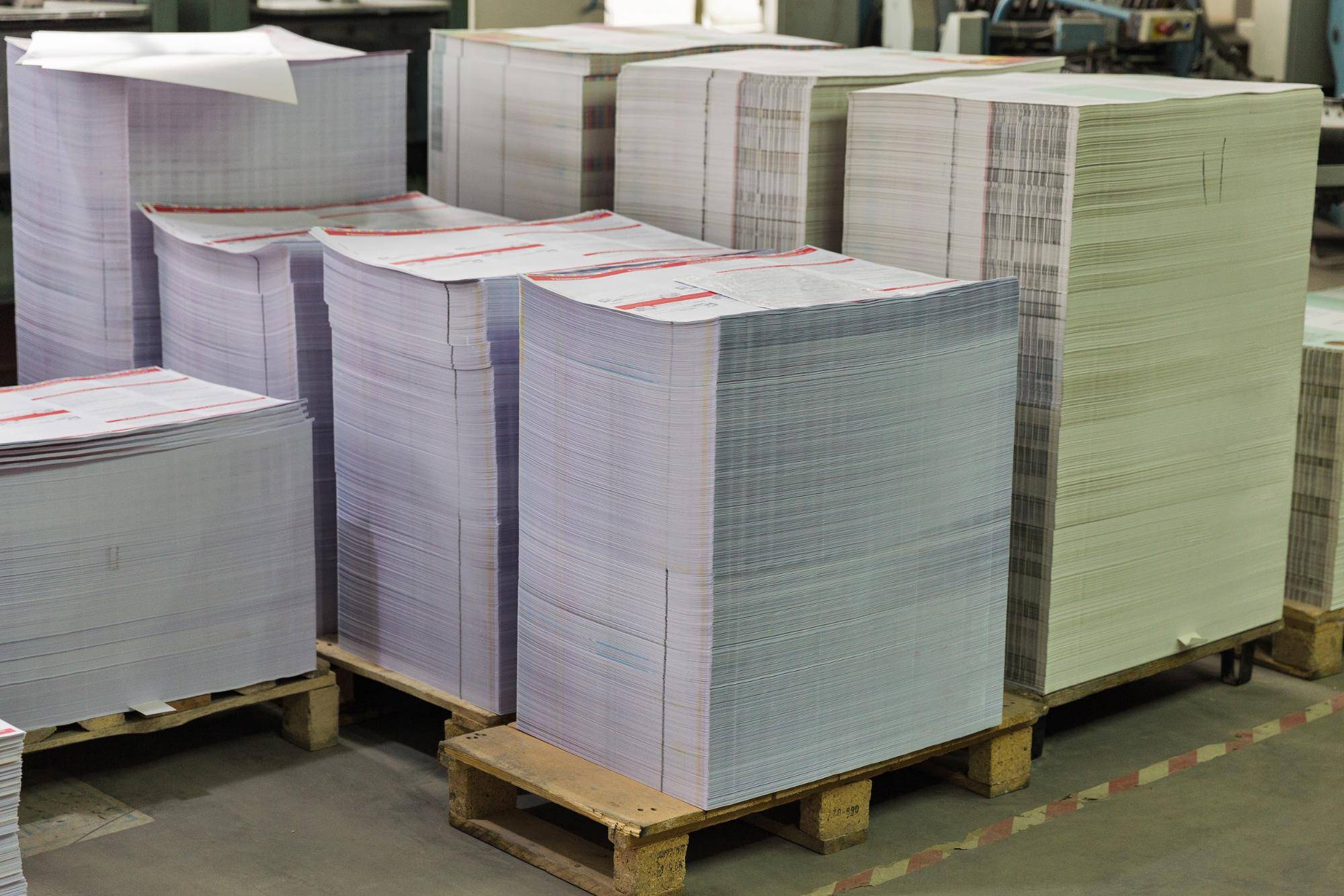 The printing industry is shifting towards inkjet printing because it offers more flexibility for serving the unique printing needs of its customers. This trend indicates more companies should evaluate the benefits of insourcing inkjet printing.
Digital printing is simpler than analog printing. And the cost of entry is much lower.
Traditional printing with flexo and offset can't offer the savings on shorter runs because of the substantial fixed cost of prepress labor and materials.
With the expanded capabilities of today's inkjet printing systems, companies can now consider bringing the printing of documents, cardboard, and packaging in-house.
Reducing the cost per printed piece is the first calculation for evaluating the benefits of insourcing printing, but the advantages extend beyond cost-per-piece. Here's a look at more factors to consider:
The Benefits of Insourcing Inkjet Printing
Reduced-cost-per piece for shorter runs
More control and oversight of production timelines
Better inventory management
Recover valuable warehouse space
Faster prototyping
More agility, greater flexibility
Manage quality and reputation
Contribute to sustainability goals
Ease of use
Evaluating Costs and Benefits of Insourcing
Companies can realize significant financial benefits and reduce their risks when printing documents, labels, corrugated packaging, and point-of-sale materials in-house.
Inkjet Printing In-house Reduces Cost-Per-Piece
Of the three types of inkjet technology, thermal inkjet (TIJ) offers the lowest cost of entry and cost of ownership. Piezo drop-on-demand is the second printing technology to consider. Continuous inkjet (CIJ) systems require significant maintenance, more training for operators, and higher downtime.
Comparing Cost-Per-Piece
Start by calculating the cost-per-piece for what you are paying your printing vendor. Divide your annual printing expense by the number of pieces produced.
Research the cost of consumables (ink). Calculating the cost of consumables is straightforward for printing with TIJ technology. Cartridge prices vary based on the type of ink. With little maintenance required, costs for TIJ printers center on the ink cartridge. The TIJ printhead is part of the ink cartridge.
Estimate the number of pieces that can be produced from each cartridge. The output also varies based on the ink coverage of the piece. Kao Collins can help you with cartridge pricing and potential output.
Divide the cost of the cartridge by the estimated number of pieces produced. The cost may be fractional. Factor a multiple of 10, 100, or 1000 for a number that is simpler to work with.
Compare the annualized cost per piece for contract printing to your estimated insourcing costs.
Consider inkjet systems that can be configured with bulk ink supply systems. This reduces the cost-per-print further. The cost of inks used for digital printing vary.
Kao Collins, for example, manufactures inks for many printhead technologies. Inks from printer technology brands cost more. Kao Collins works closely with these brands to develop inks that deliver high-quality results. Color matching is available to create inks that stay true to a company's brand standards.
More Benefits of Insourcing Printing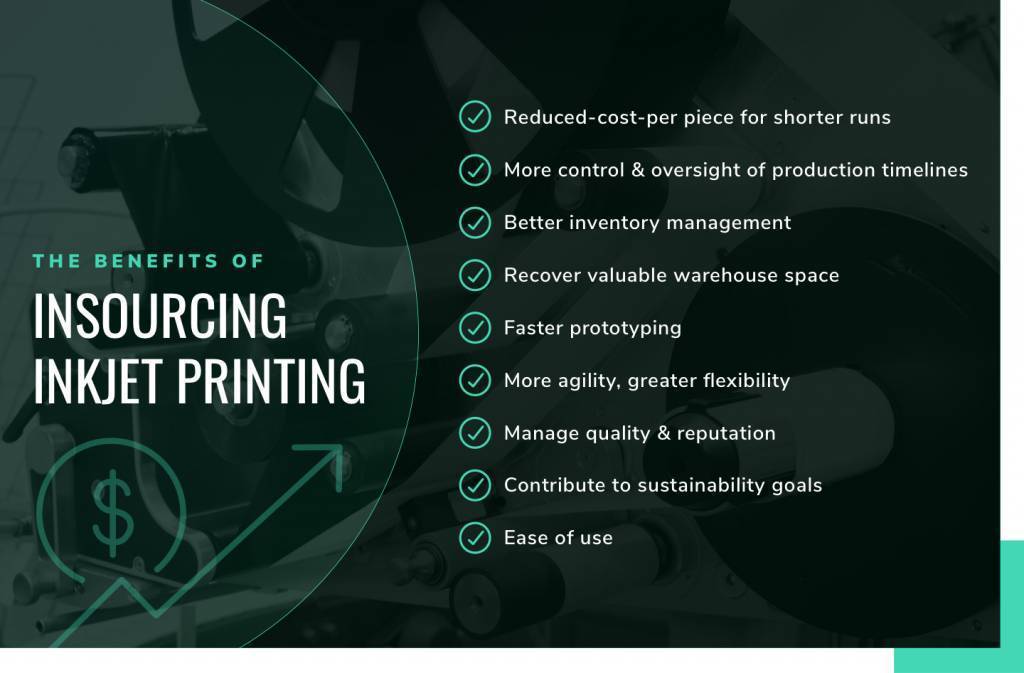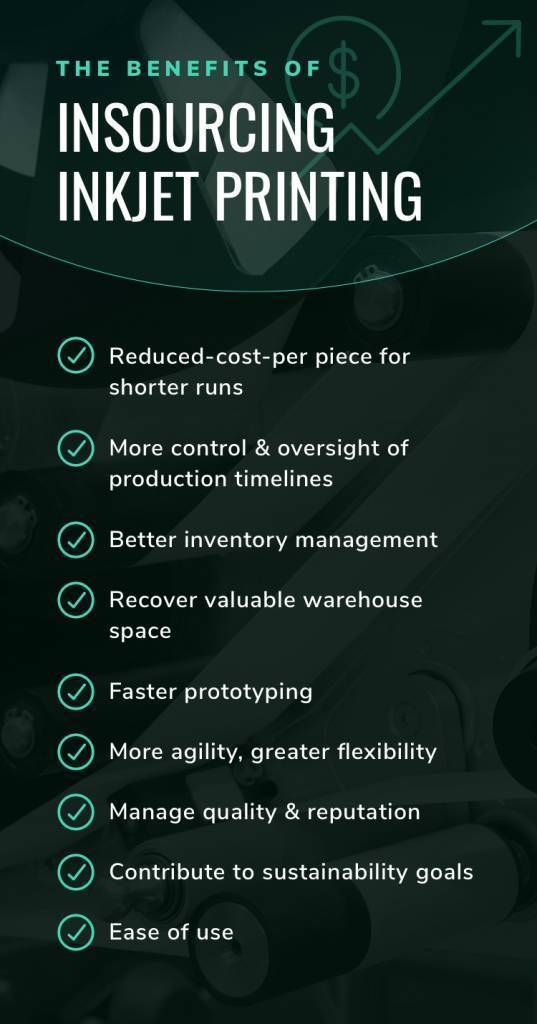 Beyond reducing the cost-per-print, moving inkjet printing in-house offers more benefits that present opportunities for cost savings.
Control of production timeline
Advantages of digital printing of point-of-purchase displays
Easily print different messaging

Cost-effective for low-volume

Adapt designs for audiences or vendors

High visual appeal
In-house digital printing puts the manufacturer in better control of production output and lead times. Supply-chain disruptions also have less of an impact on the business when insourcing. The global disruption of businesses and economies from the coronavirus pandemic demonstrates how companies had to adapt to handle more or less business.
Better Inventory Management
Thanks to short-run capabilities of digital printing, companies no longer need to stock large quantities of pre-printed boxes or labels and risk those materials becoming outdated because of swift changes in consumer demand. Obsolete packaging materials waste money.
Recover and Repurpose Warehouse Space
There is an opportunity cost for devoting valuable space to a large inventory of pre-printed materials. Digital printing systems for label-printing and cardboard-printing have a much smaller footprint. Businesses can leverage the extra warehouse space for other functions, supplies, or products.
Faster Prototyping
Companies with in-house design teams can create test prints on actual packaging or labels without waiting for a vendor to print prototypes. For point-of-purchase displays, digital printing is cost-effective because it provides more agility for testing and producing different signage or displays.
More Agile and Flexible
In-house inkjet printing requires less lead time than contract printing. Companies can quickly produce packaging or point-of-sale displays customized for unique audiences.
Printing in-house supports agile marketing teams, offering the flexibility to pivot campaigns and promotions.
Manage Quality and Reputation
In-house printing offers tighter quality control. When it comes to barcodes and expiration dates, a printing mistake can disrupt tracking and coding— or, worse, damage the brand reputation due to poor quality or incorrect information.
Sustainability Goals
The environmental advantages of printing in-house are often overlooked. Many of the benefits we have listed already contribute to more sustainable production. Insourced printing reduces the transportation of raw materials by half because it cuts out the shipping of materials to the printing vendor and then to the customer when completed. That also saves energy. Just-in-time printing reduces waste because of better inventory control.
Ease of Operation
Unlike flexo and offset, most of us are familiar with inkjet printers because they are commonly used in offices and households. Industrial versions of inkjet printing systems are not all that different. Operating digital systems do not require extensive skill and training.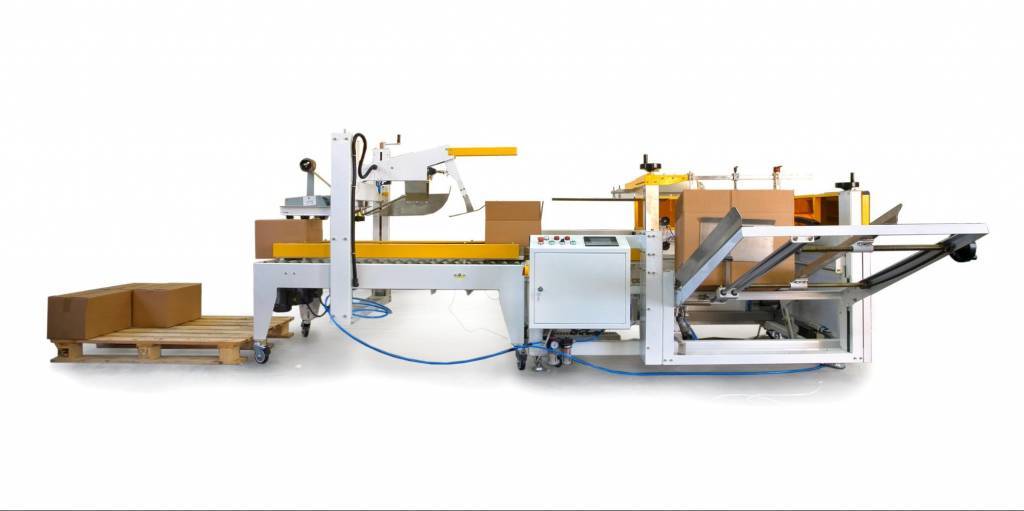 Digital Creates a Better Value Proposition
Before digital printing, companies would never consider printing their own labels, documents, or corrugated materials because of the expense and difficulty of operating traditional printing systems.
Beyond the capital expense, the prepress equipment and printing presses require highly-skilled operators. The idea offered no significant ROI.
Thanks to recent innovations in digital printing, more companies are now taking a second look at their outsourcing of inkjet printing.
Pharmacy store chain Walgreens was ahead of the curve in insourcing digital document printing. In the early 2000's, they began producing thousands of pages per month just for employee and customer documentation. The company originally used offset printing to fulfill their documentation needs. Now, the company uses digital printing equipment exclusively.
Companies considering insourcing typically go for the low hanging fruit—mainly documents and packaging labels. Now corrugated boxes and cardboard point-of-sale materials can be printed in-house.
Other Costs For Bringing Printing In-house
Digital printing systems level the playing field for companies looking to insource printing.
Besides consumables, here's what you should consider when evaluating whether to bring printing in-house.
Printer Equipment Costs
Equipment costs vary widely depending on your needs. Simple printers for basic branding or coding can be a few thousand dollars. Four-color systems for creating branded cardboard packaging could cost $100,000 or more. A mini label printer, sometimes called a "tabletop printer," can be purchased for about $3,000 to $10,000.
Industrial Inkjet Printing Technologies to Consider
The two printer technologies to consider are Thermal Inkjet (TIJ) and Piezo. Major brands sell printers for industrial inkjet printing. Also, OEMs incorporate the TIJ and Piezo technology into printers for specialized printing solutions. TIJ systems cost less. Carefully evaluate the specifications of each system to see if their distinct features and benefits are necessary to meet your printing demands.
Printer Technologies
Thermal Inkjet (TIJ)
Piezo (DOD)
Brands
HP, Funai
Epson, Dimatix, Konica Minolta, Kyocera, Ricoh, SII Printek, Xaar
Cost
$
$$
Equivalent Resolution
Up to 2,400 dpi
Up to 1,000
Throw Distance
HP: 6.3 mm

Funai: 10 mm

6 mm to 12 mm
Incorporate Multiple Printheads
2 Printheads
6 Printheads
Multiple Drop Size
No.

Some HP systems can produce two drop sizes by incorporating adjacent nozzles of different sizes

Variable
Inks Available

Water-based pigment
Water-based dye
Solvent-based
Invisible UV
Invisible IR
Visible Fluorescent

Water-based pigment
Water-based dye
Solvent-based
Oil-based
UV Curable
LED Curable
Low Migration UV/LED Curable
Invisible UV
Invisible IR
Visible Fluorescent
Clear Overcoat
Supporting Equipment for Printing
Conveyors
Conveyor systems may be required to move materials being printed. Simple belt conveyors five feet long could cost between $1000-$2000. The width, length, and control features factor into the costs. You can develop an approximate cost-per-foot for a conveyor to help with your expense planning to determine the ROI for inhouse printing.
Inks
The costs involved with various inks used for digital printing can vary widely. Kao Collins, for example, manufactures ink for many printhead technologies. Inks from printer technology brands cost more. Kao Collins works closely with the brands to develop inks that deliver high-quality results. Color matching is available to create inks that stay true to a company's brand standards.
See the range of inks offered by Kao Collins for the major printing technologies. Contact our experts to determine the best ink for your printing goals.