Apr 8, 2021
Choosing Inkjet Inks for Best Results on Substrates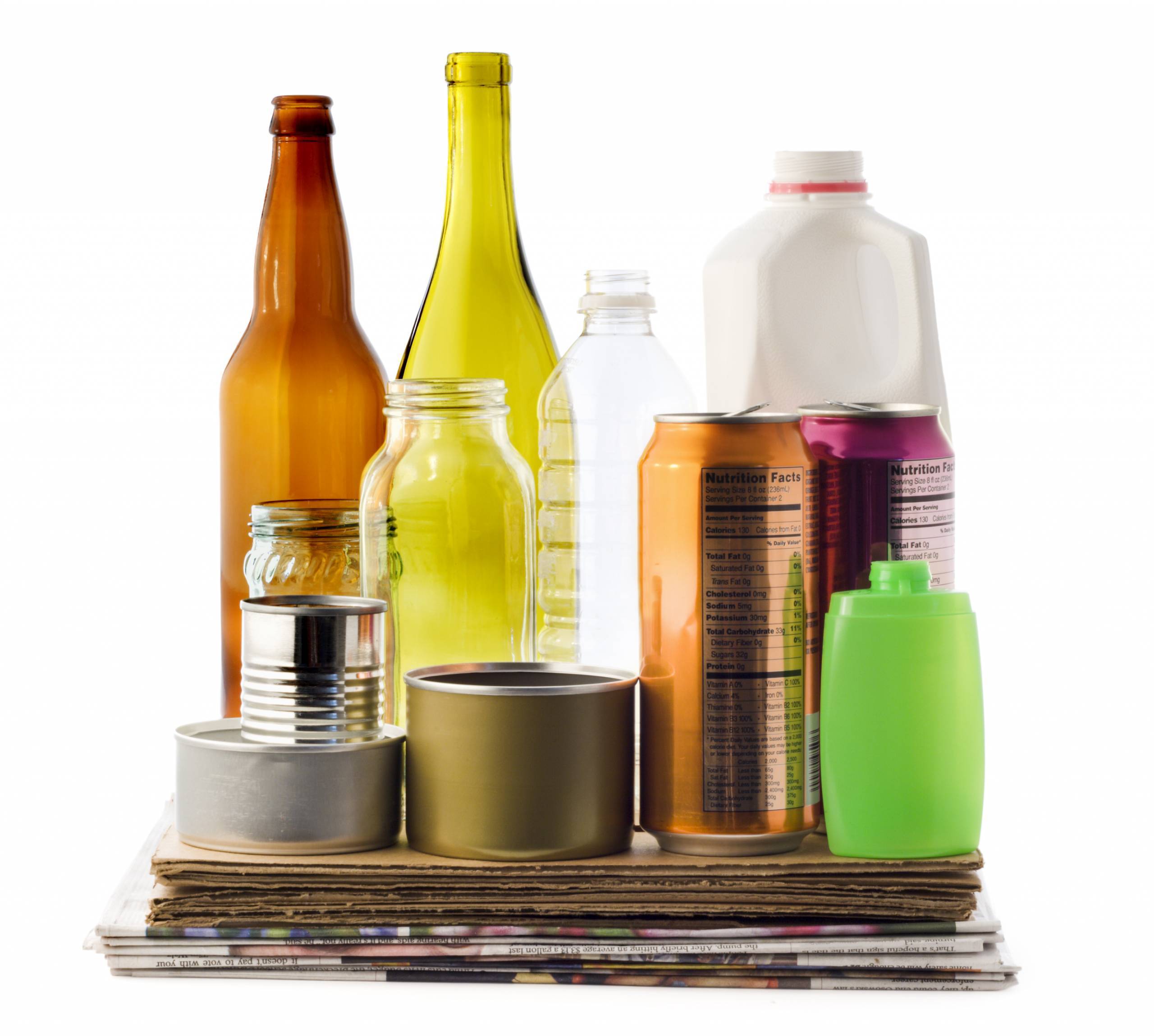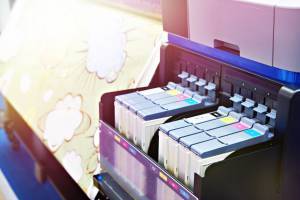 Inkjet Technology is ever-expanding into new frontiers. For example, Amazon recently announced a $400 million investment in inkjet printing systems. Their commitment proves that inkjet printing technology's versatility and its varied applications in almost every industry will influence the printing industry's trends across domestic and international markets in the coming years.
Choosing the right inkjet ink to print on the vast number of possible substrates will require considering multiple variables and factors that determine which ink is best for each project.
Substrate Types
Kao Collins Inkjet Inks with Wide Color Gamut
Download
Before we print, we usually pick what we think is the best substrate. The ink ultimately needs to contact the substrate, spread, dry, and adhere with acceptable adhesion and durability.
The ink choice depends on the substrate. Aside from textiles, substrates are either "porous" – absorbing the ink or "non-porous" – ink spreading because the ink sits on the substrate's surface.
Water-based and solvent inks dry – meaning the carrier fluid evaporates on the surface of non-porous substrates or when it is absorbed in porous materials. Curable inks require an energy source that creates a reaction to harden the ink. These inks include reactants to UV light or electron-beam energy.
The choice of substrates plays a vital role in ink printing quality. For example, in paper substrates, the brighter or whiter paper, although more expensive, creates a superior appearance that appeals more to customers. For this purpose, paper and cardboard manufacturers stack specific chemical substances into a paper base and coating. These substances are called optical brightening agents (OBAs) or fluorescent whitening agents (FWAs).
Inkjet Ink Types based on Technology
In most cases, the choice of an inkjet ink is based on the carrier fluid or properties. Below are common inkjet ink types:

The best way to compare the chemistry and usage of many different types of inks is as follows.
Inkjet Ink Types based on Application
While the ink and substrate must be compatible, other factors need to be considered. The application or industrial vertical introduces another variable in choosing inks. Regulations may also play a part in ink selection.
Security ink for passports and currency
Textile ink for direct to garment or fabric
Food-grade ink to avoid contamination from migration
Inorganic ink for architectural and construction materials
Mineral-oil-free (MOF) to meet government safety regulations
Inkjet Ink Types based on Printhead
The three printhead technologies – thermal inkjet, piezo and continuous inkjet – all require formulations to match the jetting systems.
Choosing the Right Ink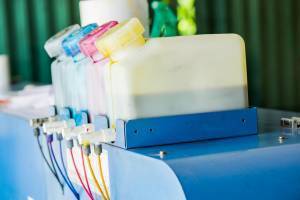 Ink plays the most vital part of the printing results in inkjet technology. And it gets complicated because of multiple variables. When you consider a printing system, it is typically based on the need to print on a couple of different substrates rather than just a single substrate.
Most ink suppliers will do an initial ink validation and recommend a formulation for your applications. Like Kao Collins, major ink manufacturers go one step further by offering the customer a range of options to consider based on more in-depth evaluations and testing.
Do You Incorporate Primer Coatings?
Printing managers often rely on primers before final printing because a single ink type can be used on multiple products or substrates. If used, primers need to be validated with the substrates. In certain cases, if you are unsure or prefer not to undertake to test internally, the product or substrate can be sent to an ink supplier for testing.
A detailed report is provided on what was effective and what was not. These considerations taken upfront will help ensure that ink and product are well matched for a long-term bond.
Accounting for Substrate Surface Energy and Surface Tension

The performance of digital printing inks can vary depending on a substrate's surface energy and fluid's surface tension. The surface tension is the force that holds the fluid together in the atmosphere. An ink's surface tension must be congruent and be less than the substrate's surface energy to achieve the intended results. Ink can be formulated to achieve certain adhesive and cohesive fluid characteristics to interact with the substrate's surface energy.
For optimum printability and adhesion, the fluid's surface tension must be lower than the substrate wetting tension or surface energy.
For example, UV-curable inks have relatively high surface tension. The surface energy of the substrate must be higher than the surface tension for sufficient wetting. Ink formulations can be modified to lower the surface tension. Likewise, the substrate can be pretreated to elevate the surface energy.
Therefore, understanding surface tension and surface energy are critical to choosing the correct ink for the intended results. Print managers must understand the principles and relationships of surface tension for inks and the target material's surface energy.
A dyne test measures the surface energy or wettability of a material using calibrated liquids applied to the substrate's surface. The dyne level is the highest number for liquid applied that does not bead.
Apart from the primary consideration of technology, application, and printhead, secondary factors are of equal importance while considering the right ink formulations for printing.
Environment Related Factors
The printing conditions impact ink performance.
Temperature – When the printing environment's working temperature is too high, a solvent ink may evaporate more rapidly, increasing the ink's viscosity. While your printer itself can probably handle heat, high temperatures can harm your inkjet cartridges.
Some ink formulations feature long decap times, increasing the amount of time a printhead can remain idle without the ink drying and clogging nozzles. Long decap times deliver greater production efficiency because printheads don't require cleaning.
Humidity – The substrate is susceptible to ink problems, such as spreading, show through, and even drying issues if the relative humidity (RH) is too high or too low. You can, however, operate with between 45-50% RH.
Air quality – Dust and debris can negatively impact adhesion and print quality. Paper dust, for example, can cause imperfections and interfere with nozzle jetting.
Drying and Curing Process
Drying is merely evaporating the water or solvent carrier fluid from the printed ink material. Curing requires a reaction that takes place for the ink to reach the maximum performance level for adhesion and abrasion- and chemical resistance. However, they all agree that the printing ink needs to be completely dried or cured before the products can be stacked, cut, folded. In the case of food or pharmaceutical packaging, there is a risk of contamination through ink migration if the ink has not fully set.
UV, LED, EB-curable, and water-based nanodispersion pigment inks are the most versatile inks because they adhere to many substrates and products. These ink formulations cost more than water-based and solvent-based inks, which can perform equally well on matched substrates.
Ink-performance Considerations
Each ink type has performance characteristics to consider. Some inks are more fade-resistant with high scratch resistance. It is necessary to evaluate the product requirements and use conditions. Fast-moving consumer goods (FMCG) don't require inks delivering archival lightfastness. Even inks in the same family perform differently. Water-based dye inks produce brighter, more vibrant colors, while water-based pigments provide greater lightfastness.
Adhesion
The substrate can be modified to increase the film's surface energy, or solvents can be added to the ink to dissolve the boundary layer to improve the ink adhesion. Whether this can be done effectively depends on the type and concentration of additives to the carrier fluid.
Lightfastness
Understanding the processes which permit fading or bleaching of inks is critical toward enhancing their lightfastness, i.e., color stability toward light exposure. About 85% of all inks have carbon black as their primary pigment, which is relatively stable toward ambient lighting conditions.
Resolution
Ink characteristics and formulations support the printer's resolution and contribute to the quality of the printed product. To achieve maximum results, the ink must match not only the printhead requirements but also the substrate. The science gets complicated. Printing resolution can be defined as the number of printed droplets in a given length, often expressed as dots per inch (DPI).
Compliance with Regulations
Choosing the right inkjet ink often involves knowing which laws or regulations may affect your options. Industries have different requirements related to any potential dangers that may exist because of a combination of ink substance, environmental conditions, intended use, and substrate properties.
Food and Pharma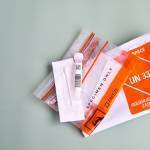 The first thing to understand is that there is no "FDA-approved ink." Inks must be evaluated and tested for each food or pharmaceutical product and potential interactions. Every food is different. The packaging varies. The environmental conditions of consumer storage, handling, and cooking all play a part in how food ingredients interact with packaging. Ink is called "food-grade" if it is safe for human consumption and can directly contact food.
For the ink to be used, there must be testing for it to be considered "food-safe." How the food-grade ink interacts with the packaging substrate, the nature of the food itself, consumer use, and various environmental factors require lab testing. The "food-safe" portion requires stricter requirements.
Food-safe means the packaging is safe for direct food contact under-identified and tested conditions. For example, an ink may be food-safe if not subjected to heating in a microwave oven or exposed to sunlight. Inks for food contact packaging must undergo rigorous third-party lab testing. Ink manufacturers must involve chemists, toxicologists, and packaging engineers to know and understand the source materials' details.
Environmental Considerations
Brands are responding to consumers who want companies to demonstrate a commitment to sustainability. Also, companies are having to comply with increasingly stringent government regulations. For example, eco-friendly printing seeks to reduce the impact of volatile organic compounds (VOCs), which contribute to greenhouse gas emissions and increase health risks for employees,
Weighing the variables for choosing inks
There are many variables to consider. Kao Collins can review your unique challenges and goals to identify the best ink and, if necessary, create a custom ink solution. Contact us.
READ MORE: Inkjet Technical Support

Download Our Guides to Inks for Improving Performance