Published on
May 17, 2019
Inkjet Printing Shines with Metallic Ink
Products using metallic ink add a level of brilliance that product engineers, designers, and marketers can leverage to attract a customer's eye. Metallic ink works because many people feel a primal attraction to gloss and shine, as both elements add to our perception of wealth and value.
Researchers at Ghent University in Belgium wanted to explore this connection further, so they performed a study to determine why we're attracted to glossy, shiny surfaces, which was published in the Journal of Consumer Psychology.
Printing on Cardboard Boxes: An Inkjet future for Corrugated Substrates
Among their findings, they discovered a connection between glossy surfaces and our innate human thirst for water.
Specifically, they found that the thirstier study participants got, the more they were attracted to glossy images.
Using Digital Inkjet for Shiny Products
While products have been enhanced with metallic shine for years using various printing and manufacturing methods, metallic ink has seen only limited use within the digital inkjet printing industry.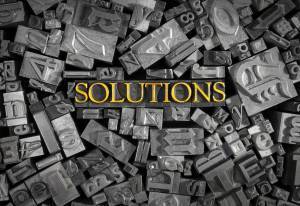 When CMYK printing was first developed around 1900, printers have mixed CMYK's four-color inks to produce an almost infinite spectrum of colors and hues, including shades of silver, gold, and bronze.
Nonetheless, the metallic inks produced by CMYK printing often lack the sheen and light-reflecting properties of polished metals. Until recently, printers wanting shiny finishes have relied on secondary production internally or externally, using other printing methods or with foil hot- stamping. This increased both production time and costs. For customers demanding value and speed, that's been a problem in need of a solution.
Our experts can help you begin using metallic ink
Glossy paper offered one method to get around the limitations of CMYK metallic shades. But product designers, engineers, and brand managers who want to incorporate metallic printing into labeling and promotional signage need better solutions.
Inkjet printing that uses either piezo or thermal printheads requires only one ink to produce an authentic metallic finish, often like a spot color. Because solvent-based inks contain actual metallic particles––similar to pigments that supply the color for those formulations––printing can be done simultaneously along with other parts of the printing job.
Producing metallic inks with inkjet printers also avoids secondary production, which lowers production time and costs for inkjet printing businesses.
Overcoming Inkjet's Metallic Ink Challenges
Print companies may be reluctant to use metallic inks in their inkjet printers because metallic flecks suspended in ink can damage the fine nozzles of their inkjet printheads. For thermal inkjet printheads, metallic inks can lead to kogation, or the gradual and inevitable degradation of the printhead.
The last thing a printer wants is to have printheads damaged since they are sensitive and costly to repair or replace.
Time is also working against printers that use metallic ink. Like a conventional pigment ink, the metallic flecks tend to settle in the solution. Pigment or metallic inks left unused in printers for a time may cause clogging from these sediments, but this can be avoided by stirring the ink containers every few weeks, or even weekly. Flushing the ink lines also help prevent clogging.
Cost is another issue for metallic ink manufactures and, ultimately, customers. As a valuable commodity, the global market determines gold and silver prices. Metallic ink prices can be pricey, based on market conditions.
Development of these inks can also be challenging. Metallic particles all react differently to solvents, so chemists must test the materials used in their ink formulations to avoid unintended reactions.
As with any inkjet ink, metallic inks should be tested on the intended substrate for adhesion. For some surfaces, a primer may be required for optimal results. The good news is that the durability of metallic inks is similar to any other inkjet ink.
Kao Collins is developing cost-effective thermal and piezo metallic inks using iron oxide nanoparticles for decorative applications.
How Brands Benefit from Metallic Ink
Accents with metallic ink often make the difference between consumers choosing one product over another. That makes them a tool worth considering for product marketing.
However, while custom printing with metallic inks will convey high status and exclusivity, like any branding, these inks must be weighed against the intended message and likely impression on the customer.
If shiny metallic features are appropriate for your brand message, then using metallic ink printed with digital inkjet is a home run, both from a cost perspective and in the final result that captivates customers.
Contact Kao Collins about metallic ink for your unique application.
Read more: A Visual History of the Evolution of Printing

Read more: 8 Artists Who Use Ink in Fascinating Ways