Nov 12, 2021
Industrial Inkjet Printing Supports UDI Medical Coding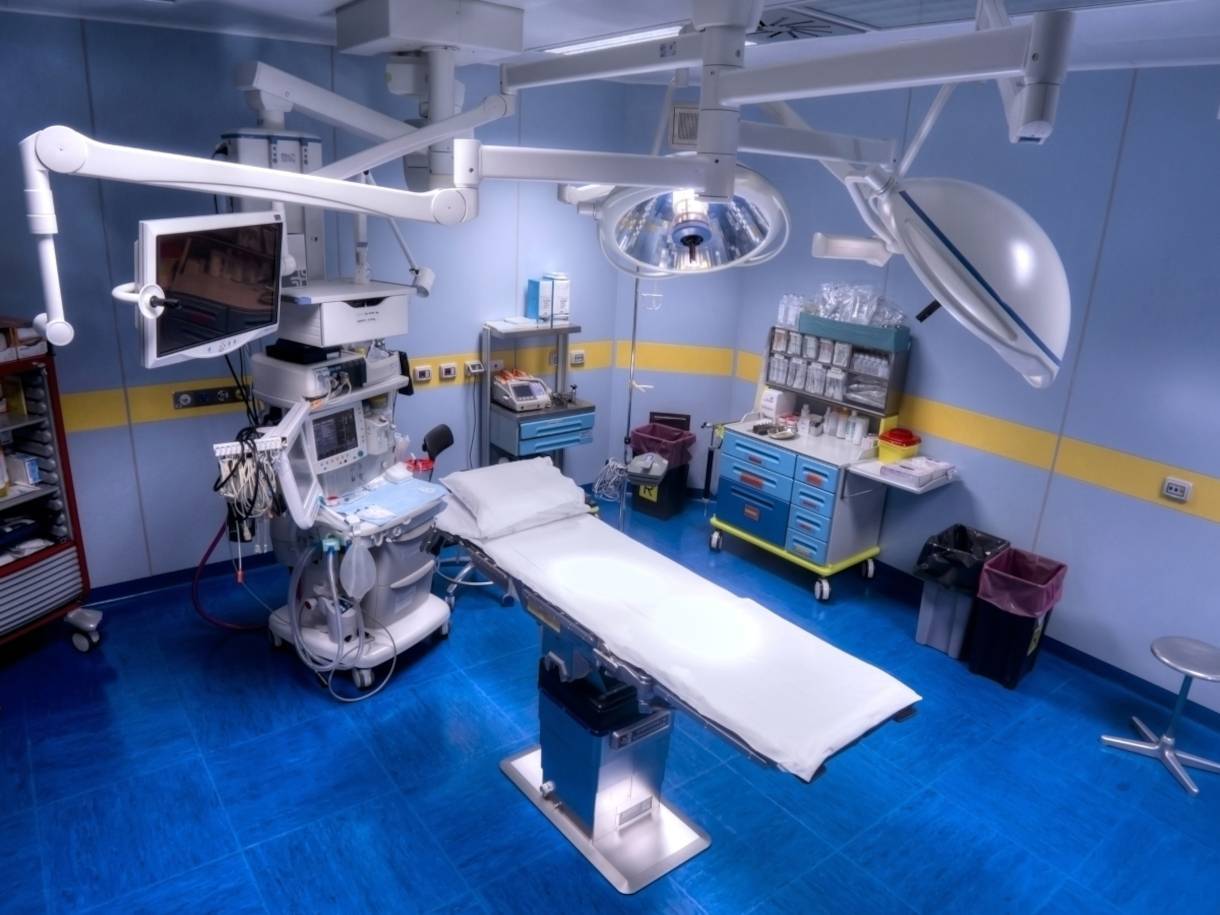 "Track. Inform. Protect." Though it sounds simple, accomplishing these three objectives is a greater challenge for the medical industry as more and more countries have a different set of shifting requirements for the marking and coding of medical devices.

Kao Collins Inkjet Inks Reduce Risk of Ink Migration
Download
Labeling regulations surrounding
Unique Device Identification (UDI)
are a concerted effort to provide an international framework for medical practitioners, caregivers, and patients to identify, track, and monitor the safety and efficacy of medical devices. The need for a global system for marking and coding medical devices and equipment is more urgent than ever before.
Timeline of International UDI Adoption
Japan introduced a UDI system in 1999, the first country requiring medical-product coding. Today, other countries have launched or have planned to roll out coding regulations.
Implementation and standardization of requirements have been slow. The International Medical Device Regulators Forum (IMDRF) spearheads the effort to harmonize global requirements.
The United States Food and Drug Administration (FDA), the European Commission, and other regulators have made patient safety a strategic priority by developing the UDI regulations and are aiming for a globally harmonized and consistent approach aligned with the IMDRF Guidelines.
The UDI requirements for the European Union went into effect in May 2021 for the
EU MDR (2017/745)
regulations for medical devices and
EU IVDR (2017/746)
will become active a year later for in vitro diagnostics. Manufacturers must ensure that all devices and higher-level packaging are properly assigned and carry a UDI from these dates forward.
South Korea plans to phase in UDI by risk class between 2019 and 2022. India requires UDI on all licensed devices by January 1, 2022. Taiwan's current voluntary program became mandatory in 2020. Saudi Arabia is expected to be similar to Taiwan. Many countries stagger the compliance dates for different classes of products.
Objectives and Benefits of UDI
As a globally recognized standard, every medical device manufacturer will be required to comply with the regulations that require UDI code included on devices, labels, and packages. The basic objectives of UDI compliance include:
Faster discovery of potential flawed medical device information by health authorities
Quicker access to recall information and visibility into current inventory
A reduction in medical errors by providing product expiration dates in the barcode
Identify counterfeit products being used
Ensuring that information regarding an implanted device is safely retained and traceable
Classification of Medical Products
Medical devices are separated into three classes: Class I, Class II, and Class III. Each is based on the risks associated with the device in question, with Class III representing the highest risk category.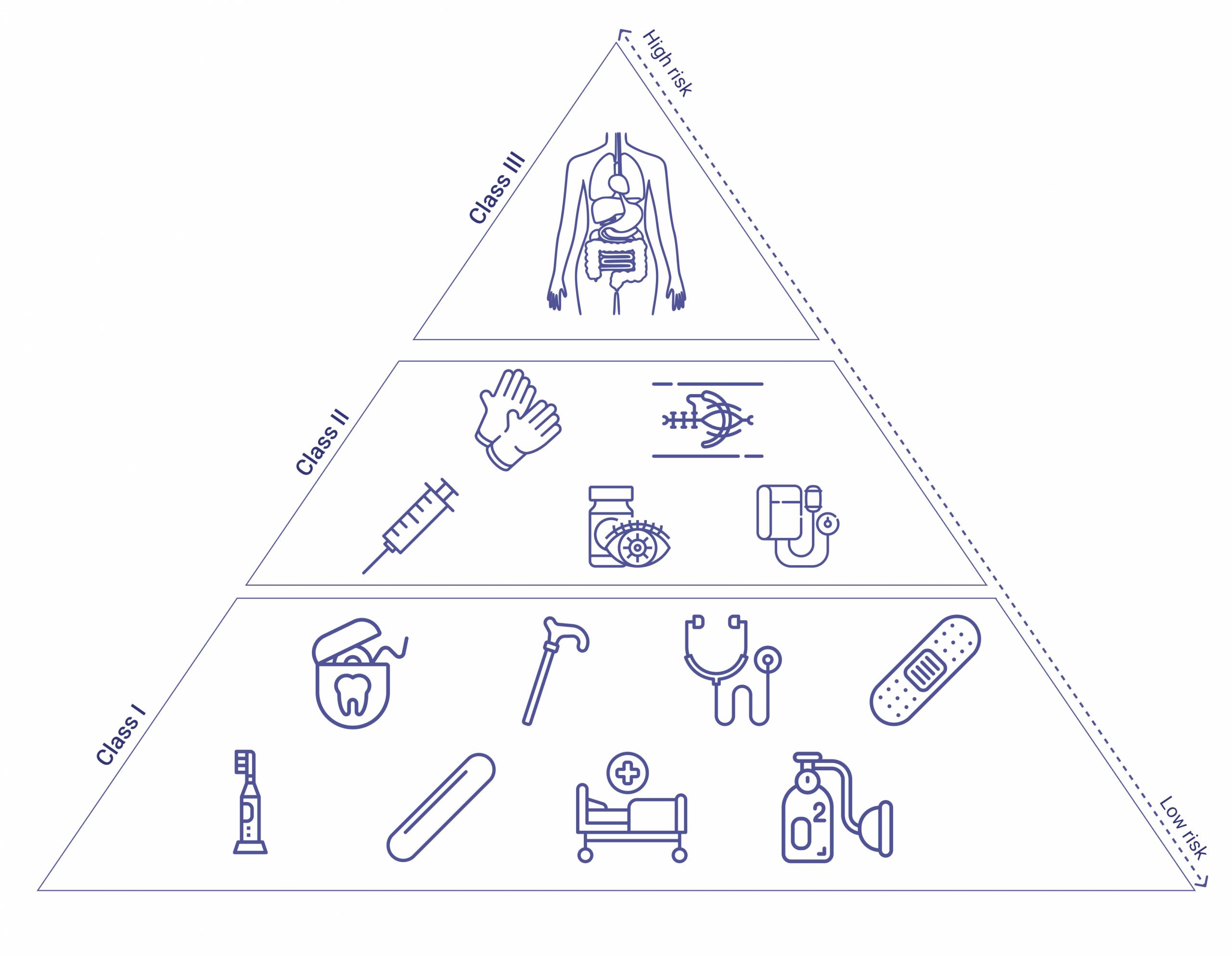 Class I devices represent the lowest risk; for example, dental floss and adhesive bandages fall under this category. Other examples include enema kits, elastic bandages, manual stethoscopes, and bedpans.
Class II devices present a higher risk and, according to FDA guidelines, "require greater regulatory controls to provide reasonable assurance of the device's safety and effectiveness." Blood pressure kits, powered wheelchairs, and some pregnancy test kits, for example, comprise Class II devices.
Class III devices represent the highest risk category, and include items such as knee prostheses and replacement heart valves (devices under this category usually require FDA approval before they are allowed to be marketed). Finally, implantable devices include items such as pacemakers or breast implants.
UDI Coding Requirements
UDI codes must usually be attached to a first- or higher-level medical device package. Containers are not part of a higher-level medical device packaging.
The UDI codes are unique for each product and each level of packaging. The Global Standards organization issues these unique codes (Global Trade Item Code GTIN) to the manufacturer.
Ideally, products/devices are coded directly on the device with the following exceptions:
If the device or primary packaging has a very limited identification space, the UDI code may be identified on the secondary packaging.
For individually packaged Class I and Class IIa disposable medical devices, such as medical gloves, the UDI code can be identified on the secondary packaging.
For medical devices intended for reuse, such as surgical instruments, the UDI code must be directly identified on the medical device itself, unless direct identification impacts its safety or performance or is not technically feasible.
The coding is printed as a simple formula: DI + PI = UDI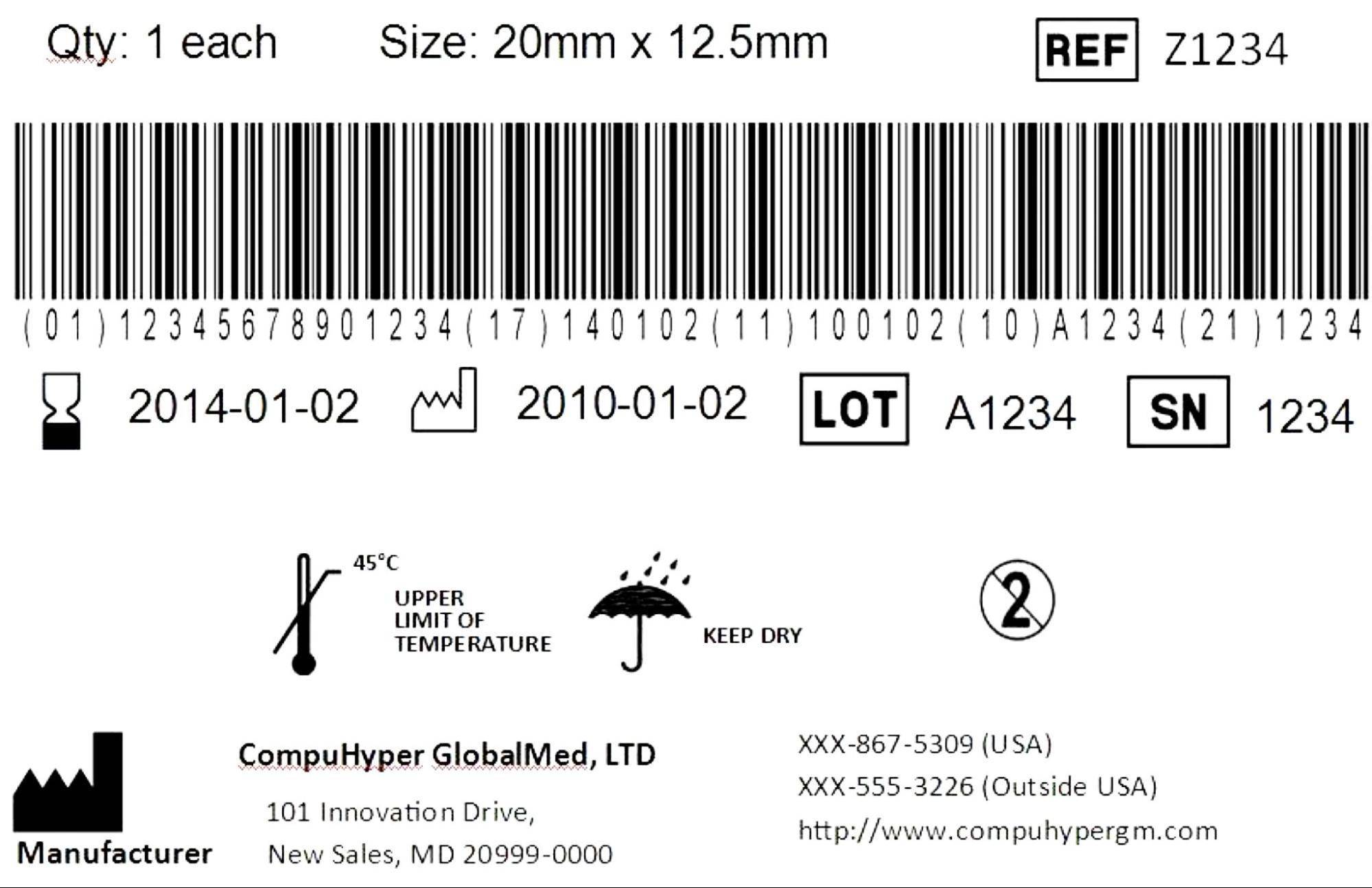 DI (Device Identifier) provides information representing the labeler or manufacturer, the model, or a specific version of the device itself.
PI (Production Identifier) provides information such as lot or batch number, expiration date, serial number, and manufacturing date.
Codes must be issued by agencies accredited by the regulatory authority, such as GS1, and once assigned, must be submitted to a central database administered by the FDA known as the Global Unique Device Identifier Database (GUDID).
Inkjet Systems for Printing UDI Coding
Industrial inkjet printing comprises three technologies: Thermal inkjet (TIJ), Piezo, and Continuous Inkjet (CIJ). The nature of the printing, the substrate, and the necessary ink requirement often determine which technology is used for UDI coding.
Barcode readability requires high contrast and legibility to achieve regulatory compliance and traceability in the supply chain. It is imperative that manufacturers have the correct printing or marking technology to comply with UDI legislation.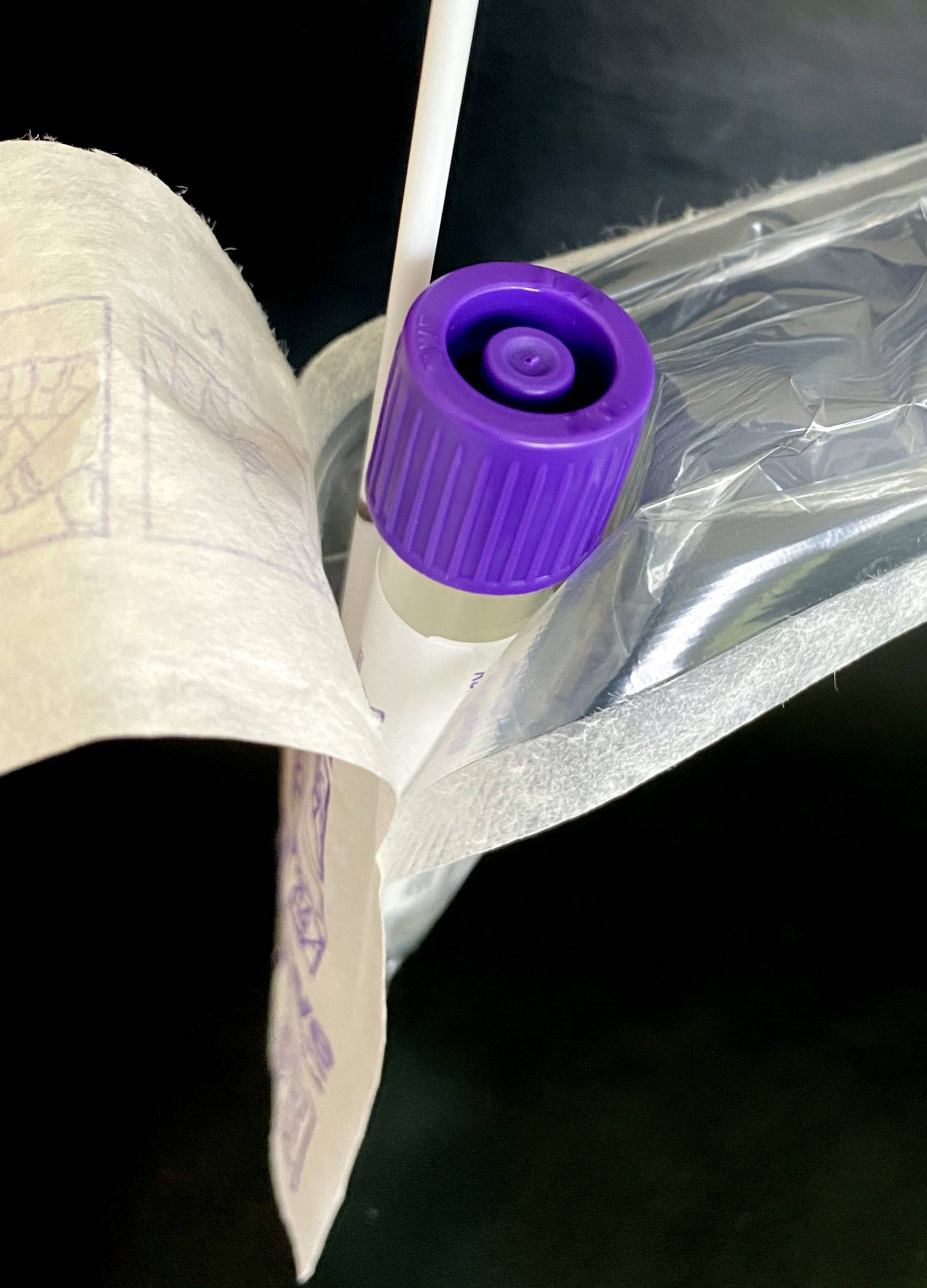 TIJ is commonly used for medical device packaging.
Thermal inkjet printers perform well on common flat substrates used for packaging of medical devices. They are capable of operating at high speeds on production lines without fear of compromising print resolution. TIJ is commonly used to print 2D codes.
Advancements in TIJ technology now make printing on curved surfaces possible. Using Kao Collins NEXXO solvent inks, Funai inkjet technology prints on cans, glass, and other curved non-porous health-related products. The increased throw distance of 10mm is twice that of other TIJ printing systems.
Packaging that may pose an elevated chance of ink migration relies on Piezo technology and the wide range of low-migration inks available. Third-party testing to evaluate inks and packaging materials is recommended.
CIJ is also a versatile solution, capable of printing up to five lines of text and 2D and linear barcodes across a wide range of packaging formats and materials.
Most UDI printing is applied directly to the product. In other cases, the code will need to be printed onto unit packaging. Unit-level packaging for medical devices often consists of cartons or flexible materials such as films.
While inkjet printing offers the widest application for UDI coding, other systems are used for specialized marking.
Other Coding Methods
Inkjet printing offers the versatility for printing among a range of medical products. There are applications where other coding methods must be used for micro coding that enables total traceability. These methods protect the manufacturer, medical operators, and patients from counterfeits.
Laser Etching
Laser etching of a medical device involves an acid solution etching agent that inscribes the coding into the surface. For example, Jawbone dental implants bare only tiny surface space, making traditional coding of micro 2D codes impossible.
Thermal Printing
Thermal transfer labels offer flexibility in sizes, shapes, and materials. The variable data, including UDI barcodes, is printed with a secondary digital printer. An assortment of materials from paper to the strength of polyester and polyimide ensures proven performance in water rinses, chemical contact, abrasion, extreme temperatures, contact with blood, moisture, and all your labeling challenges.
Pad Printing
Pad printing is often cost-effective over other printing methods, including digital, particularly with high volume, limited colors, and small parts that require microscopic printing while maintaining high quality and tolerances. Pad printing providers print on a wide variety of medical devices, including catheters, tubes, shafts, clips, syringes, handles, adapters, housings, and connectors.
Screen Printing
With screen printing, it is possible to print on thick medical devices like glass or metal. The process involves different stencils for different colors. The screen print method is not suited for low-volume, high-mix, and quick delivery production.
Inkjet Inks for UDI
A range of inks is available for inkjet printing UDI coding on health or medical products. The product material, lifespan, and other factors come into play when choosing an ink.
Low-Migration Ink Options for UDI Coding
Ink migration is simply what happens when the ink printing on the outside ends up on the inside, creating a risk for consumers. Evaluation of ink migration requires third-party testing.
When ink migration is a concern, the following factors must be evaluated to mitigate migration:
Substrate thickness
Ink deposited
Ink chemistry
Surface coverage
Environmental conditions in the supply chain
End-use of the product
Low-Migration Inks
LED-Curable – Kao Collins offers a large selection of high-speed LED inks for Piezo DOD printheads. Formulated as a low-energy, low-heat, and eco-friendly ink option, our signature Tesla LED curable ink provides an option to more traditional inks that are cured with mercury arc lamps.
EB-Curable – EB curable inks are formulated as a safe, cost-efficient, durable, and reliable alternative to UV-curable and LED-curable inks. Rather than curing a liquid until it becomes a solid, electron beam (EB) ink technology changes the chemical composition of the ink.
LUNAJET – The eco-friendly, water-based ink is designed for digital printing on plastic flexible film packaging and other non-porous substrates. This low-migration ink delivers even and efficient coverage. LUNAJET's advantages make it the best ink option for industrial printing of health and pharmaceutical packaging.
Other UDI Coding Inks
These TIJ inks produce fast, durable marking and coding:
HP – SIGMA – A heatless inkjet ink, SIGMA solvent ink for HP Specialty Printing Systems cures fast with deeper blacks and high durability, offering an industry-leading 24-month shelf life with 12-hour decap for increased up-time
Funai – NEXXO – Funai Nexxo solvent ink makes marking and coding on curved surfaces possible. This new offering produces high-resolution expiration dates and lot codes on food and pharmaceutical packaging.
Water-Based Dye/Water-Based Pigment – Kao offers thousands of aqueous dye and pigment inkjet inks for industrial printing on an array of substrates. Water-based inks can also be used for UDI compliance marking and coding.
Get the Right Inkjet Ink for UDI Printing
Inkjet printing has wide applications for UDI coding because of its versatility in touchless printing, with many ink types available for printing many different substrates.
Contact Kao Collins for more information and ink requirements for unique device identification compliance for medical products, devices, and supplies.
FAQs
What is UDI?
A Unique Device Identifier (UDI) is a unique numeric or alphanumeric code that consists of device identifier (DI), a mandatory, fixed portion of a UDI that identifies the labeler and the Production Identifier (PI) for the specific version or model of a device.
Why are countries implementing UDI coding for medical devices?
UDI coding increases patient safety through the traceability of medical devices and products with unique tracking codes. It helps assure patients that health products are safe. And the ultimate goal of developing a medical device is to help patients. If your device isn't safe, you'll risk patients getting hurt.
What is the best way to print a UDI code on medical products?
Realistically there is no one best way. It depends on the product/device. Inkjet offers the widest range of applications. Whether selecting industrial inkjet, laser, pad, or screen printing, an experienced coding solution provider can guide you to the optimal technology for UDI coding on your medical devices or packaging.
Download Our Guides to Inks for Improving Performance