Piezo DOD Inkjet Technology
Piezo industrial inkjet printers use a drop-on-demand (DOD) technology that ejects ink using a mechanical process. It accommodates a wider range of ink types because no heating is involved. A crystal acts like a valve when an electrical field is applied.
Why Use Piezo Printing Systems?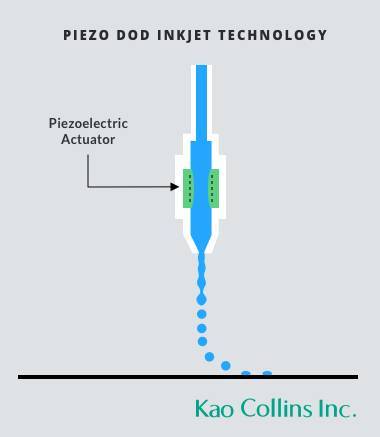 The crystal actuators in piezo DOD printing systems offer the advantage of ejecting variable-sized ink droplets, which print different ink densities on the printing surface for higher resolution printing.
Because of the higher cost of piezo printheads, the technology generally limits the use of industrial piezo printers to higher cost printing applications.
Piezo printing systems dominate the market for the printing of paper, textiles, signage, and home decor such as wallpaper and ceramic tile. Their printheads can be configured to handle anywhere from one to six or more inks, offering the ability to print a wide color gamut through either single-pass or scanning printing.
Piezo Technology Supports a Wide Range of Printing Needs
Cardboard
Four-color (CMYK) Labels
Billboards and other wide-format signage
Direct-to-product labeling
Textiles
Benefits of Piezo Printing Systems
Long printhead life
Low power consumption
Billboards and other wide-format signage
Direct-to-product labeling
Textiles
---
Leading Piezo Printheads
Dimatix Inkjet Technology
Fujifilm is the parent of Dimatix. The single-pass printheads can be configured or manufactured to the width of the substrate being printed. Key printing segments include packaging, signage, and textiles.
---
Konica Minolta Inkjet Technology
Konica's single-pass and scanning printers meet the increasing demand for short-run textile and fabric printing using inks suited for natural or synthetic fabrics.
View our Konica Minolta
Piezo inks
---
Kyocera Inkjet Technology
Kyocera printheads are among the fastest in the industry and are used for a range of printing, including labels, wide-format signage, labels, and textiles.
---
Ricoh Inkjet Technology
Ricoh's technology offers solutions for printing billboard signage, textiles, decor, labels, and packaging.
---
SII Printek Inkjet Technology
The Seiko company produces print heads suitable for the full range of printing, including ceramic tiles, textiles, wood, cardboard, wallpaper, and more. The printheads handle UV-curable, water-based, solvent-based, and oil-based fluids.
View our SII Printek
Piezeo inks
---
Xaar Inkjet Technology
Xaar focuses on the packaging sector and the growing interest in direct-to-shape packaging printing. The printheads handle a wide range of ink fluids for printing on a variety of substrates, from wood to metal.
---
Custom Ink Formulations
In addition to standard inkjet inks for printing on a wide variety of substrates using any inkjet technology, Kao Collins can develop unique and customized ink fluids for piezo inkjet printing on non-standard substrates. Our chemists can formulate inks to meet your technical specifications.
"*" indicates required fields