Jul 28, 2020
Inkjet Inks Offer Flexibility for Cannabis Packaging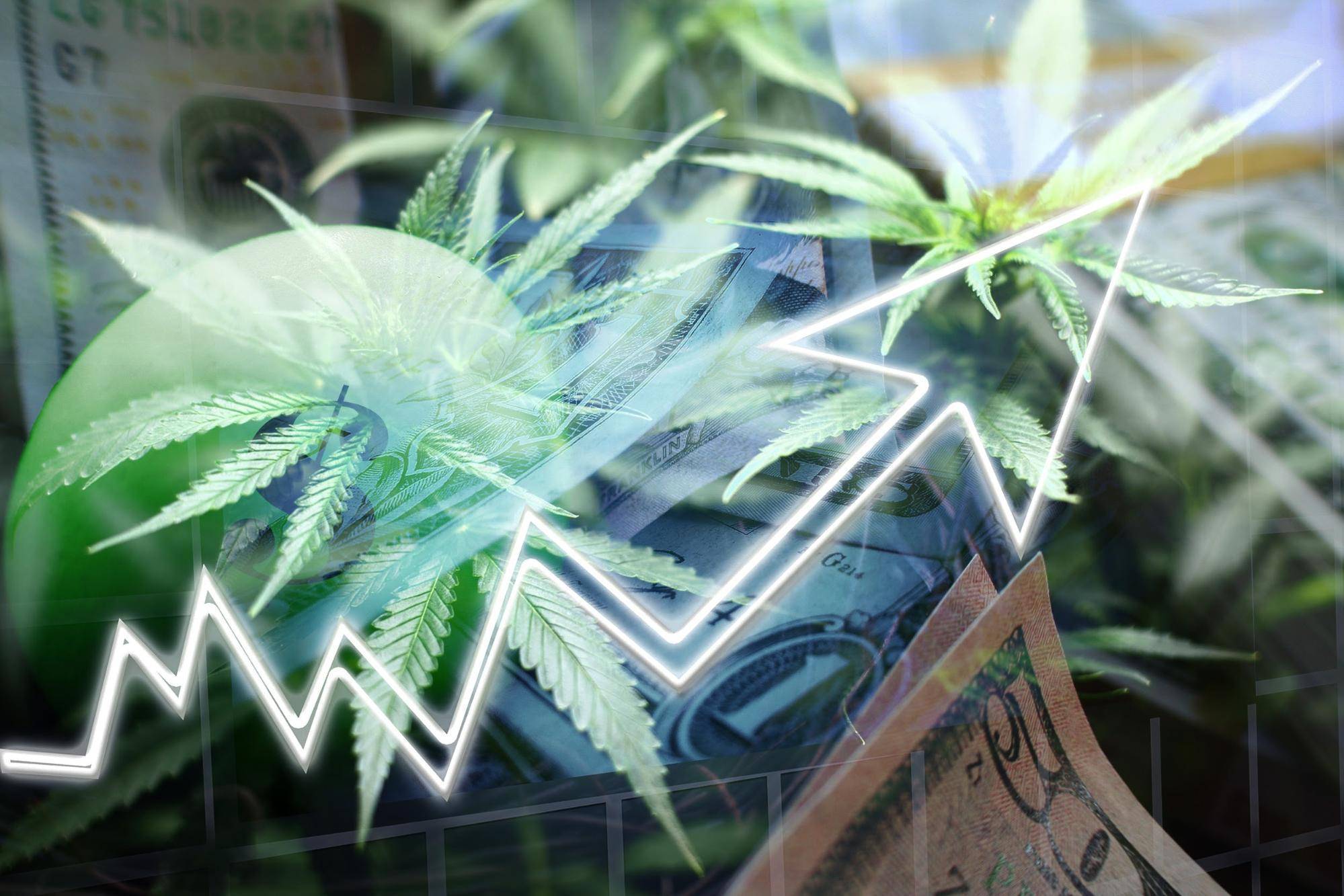 In the U.S., 11 states have legalized marijuana for recreational use. In another 33 states, selling medical marijuana is legal. States have enacted strict regulations for packaging and labelling of cannabis products, and inkjet is the leading technology for printing the required labels.

Kao Collins Inkjet Inks Reduce Risk of Ink Migration
Download
Total sales of legalized cannabis products in these states are projected to grow at a compound annual growth rate (CAGR) of 14%, reaching nearly $30 billion by 2025. When you add similar growth for cannabidiol (CBD), the non-psychoactive cousin of marijuana, there is considerable opportunity for labeling and inkjet ink industries.
With so much opportunity for inkjet printing, here's all you need to know about finding inks for packaging and labeling marijuana products.
Regulating the Cannabis Industry
States that have legalized some form of marijuana have created stringent regulations that govern the sale and packaging of these substances. Not surprisingly, these regulations differ from state to state. That makes it impossible to create universal labeling solutions for all jurisdictions.
New interpretations of existing regulations for products with Tetrahydrocannabinol (THC), the chemical found in recreational marijuana that gives it potency, further complicate and confuse manufacturers, packagers, and retailers. That's another reason the versatility and short-run capabilities of digital printing make sense for producers and retailers that need to stay on top of these regulatory changes. Otherwise, each change in regulations could leave them with worthless pre-printed product labels whenever they attempt to limit costs by purchasing them from printers in bulk.
That's not all. Edible and medical products—whether beverages, candy, cookies, or gummies—must meet federal standards for food-grade inks. One important factor to consider for marijuana product packaging is ink migration, which results in ink solids or fumes passing through packaging to the consumable product.
Common Labeling Requirements for Marijuana Packaging
Net weight of marijuana in the package
Source and date of cultivation
Type or strain of marijuana or product
Manufacturing and packaging date
List of solvents, nonorganic pesticides, herbicides
Medical marijuana may require labels similar to any other prescription medication
Cannabis food products, often called edibles, also need nutrient/calorie labeling, like what might appear on a bag of Doritos. States and the federal government regulate food and drug packaging.
Be sure to check the pharmaceutical and food packaging regulations for your state, including those from the FDA.
Packaging for Legal Cannabis Sales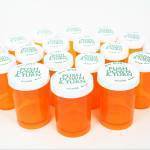 Just like Fast Moving Consumer Goods (FMCG), there are many packaging options for the legal marijuana industry. Maintaining freshness is important. For that reason, PET (polyethylene terephthalate) is commonly used for black or amber vials, which blocks or reduces transmission of sunlight.
The demand for cannabis product packaging mirrors the growth projections for the cannabis industry. The market outlook for jars, bottles and cartons is expected to increase 31% per year into 2024 and total about $1.1 billion, according to a market report from The Freedonia Group.
Food-grade packaging is a high priority and, using the correct inks, combine to prevent ink migration, which could contaminate the marijuana products. Child-resistant packaging is also a priority.
The industry also favors eco-friendly packaging. Compliance with state regulations makes this a challenge. Brands and researchers are looking for alternatives to traditional plastics for packaging.
Sana Packaging, for example, uses ocean plastic combined with a hemp-based plastic to reduce waste for pre-rolled marijuana products. Hisierra produces certified child-proof "exit packaging" made with sugarcane fibers. This child-proof exit packaging is another place for labels for the dispensary.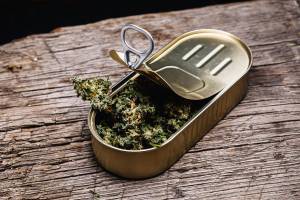 Types of packaging for recreational marijuana
Plastic and glass cannabis jars
Rigid tubes
Decorative tins
Cartons and boxes
Bottles
Flexible pouches
Cans
Plastic bags
New Age of Child-Proof Packaging
Child-proof designs such as twist-and-push bottles and nearly-bulletproof blister packaging have been around for years. In the new age of legal cannabis, designers are taking a fresh look at child-resistant packaging, also known as "special packaging." In addition to the marijuana product itself being packaged to be child-resistant, the products must be taken from the store in exit packaging.
What Inks are Used for Marijuana Packaging?
Here at Ink Tank we're not legal experts. We are ink experts. That's why we're offering insights here about ink options for printers of packaging and labels involved in the sale of recreational and medical marijuana.
With so many options for packaging and label substrates, choosing the right ink is important for ensuring marijuana products meet regulatory compliance. Some inks could fade quickly in the sun, or run when exposed to water. Even more important is choosing an ink that minimizes the dangers of ink migration.
Avoiding ink migration involves testing the ink solution in combination with the packaging substrate in a process that replicates its journey to the end-user. For example, an ink and the packaging may be stable under normal conditions but may react to environmental conditions after the sale, such as extreme heat or cold that may be endured during transport.
Beyond the concern for ink migration, businesses must be confident the ink for THC marking and other requirements adhere effectively to the package or label. Kao Collins works with their ink customers to choose the right ink for their substrate. In addition, they provide color-matching services and develop custom ink products.
As new eco-friendly packaging comes to market, custom inks may be required.
Inkjet inks for Cannabis Packaging and Labeling

Water-based Dye
Dye-based inks use colorants dissolved in the base solution. Think of sugar dissolved in water. While they offer a wider-range of colors, they are more susceptible to fading and running. These water based inks are cost-effective.
Water-based Pigment
Pigment-based inks use small colored particles suspended in the base solution. Think of fresh orange juice that requires shaking to remix settled pulp. These inks are more water-resistant and fade-resistant. Both types of water based inks perform well on porous surfaces or coated substrates.
Eco-friendly water-based ink
A third water-based ink is Kao Collins LUNAJET, an eco-friendly pigment ink that prints exceptionally well on flexible packaging and films. It can be tested to perform as a food-grade ink. This ink supports brands that are positioning their products for customers who value the environment and sustainability.
Solvent-based Inks
Printing variable data such as weights, strains, and other compliance information on plastic containers and labels, glass vials, metal tins, and glossy cardboard materials require solvent inks that dry quickly. The challenge of most solvent inks is the short decap, which is the time the cartridge can be idle before the ink dries. SIGMA solvent ink from Kao Collins for HP 45si printing systems can remain idle for 12 hours, which is plenty of time to switch labels and other packaging materials without having to purge the printhead.
Energy-cured inks
UV-curable inks and LED-curable inks feature photoinitiators that respond to light energy for curing. These inks perform well on flexible packaging and non-porous surfaces.
Preventing Counterfeiting with Security Inks
For all consumer brands, counterfeiting poses a significant threat to consumers and companies. Invisible inks can offer a layer of protection against these risks. There are invisible ultraviolet and invisible infrared security inks that can be used for tracking and indicating authenticity. Some regulations allow for the use of these security inks, as long as it's not used for any "secret" brand messaging.
Packaging for CBD Products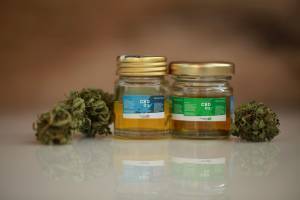 While CBD products are not as stringently regulated as the cannabis industry, manufacturers must navigate FDA regulations.
Some CBD products are considered food products, and others are considered supplements. Each has their own labelling requirements.
Manufacturers can use inkjet inks that are commonly used for food and pharmaceutical packaging, though ink migration must be evaluated.
Matching Inkjet Inks to Cannabis Packaging
Before investing in printing systems and inks to produce recreational and medical marijuana packaging, chemists at Kao Collins can help you choose the right inks to deliver the intended results and help maintain regulatory compliance.
Our chemists will help you choose from our wide range of inkjet inks based on your packaging material needs. We also offer color matching services to ensure our custom inks meet your brand standards.
---
Frequently Asked Questions – FAQs
What inkjet inks can be used for legal cannabis packaging?
Inks must be carefully matched to the packaging material. Water-based inks perform well on uncoated paper products. Solvent inks, UV-curable, and LED-curable inks are often used on non-porous substrates like glass, metal and many plastic containers or plastic-laminated labels.
What is ink migration?
It is the transfer or bleed-through of ink substances from the packaging material into consumer products such as food, medicines or health and beauty. What's printed on the outside ends up inside.
Where is recreational marijuana legal in the United States?
Colorado
Washington
Alaska
Oregon
Washington, D.C.
California
Maine
Massachusetts
Nevada
Michigan
Vermont
Guam
Illinois
Download Our Guides to Inks for Improving Performance