HP 45SI Solvent Inks
Kao Collins formulates high-performing solvent inks that deliver high-quality results and low-maintenance printing. We're expanding the print capabilities of thermal inkjet technologies as a long-term HP Specialty Printing System partner.
HP Solvent Ink Applications
Companies now rely on HP Thermal Inkjet (TIJ) more than any other inkjet technology for coding, tracking, and direct mail printing on these substrates:
Foils
Films
Hard plastics, including BOPP, PVC, PET, PE, and PP
Glossy boxes or card stock
Metals
Tyvek® and other high-density spun-bound polyethylene materials
Kao Collins experts can evaluate your substrates to determine the best ink. Contact us to find your best solution.
HP Solvent Inks Available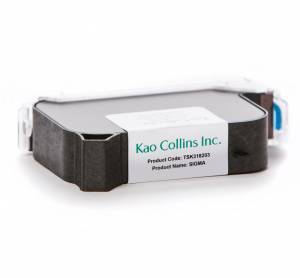 The Kao Collins solvent-based TIJ inks allow customers to print onto difficult and challenging substrates that aren't possible with water-based inks. 
SIGMA (TSK318203)
A heatless inkjet ink, SIGMA cures fast with deeper blacks and high durability, offering an industry-leading 24-month shelf life with a 12-hour decap time.
Shark (TSK1948)
A solvent-based ink was developed for a side-printing packaging application onto Styrofoam, PET, and paper cartons. As a result, this ink performs well in very humid packaging environments. The Shark ink provides low maintenance, good adhesion, water fastness, and decap with reasonable dry times.
Solv-Jet (TSK-247703)
Formulated to print onto difficult substrates. When compared to our Bear solvent ink (TSK2039), you can expect a darker image, improved long-term recovery, improved adhesion to plastics, equal dry time, and the ability to print readable text and barcodes on foils and plastic wraps.
Stratus (TSK281503)
Stratus (TSK281503) is a solvent-based ink formulated for difficult media such as plastic wrap, PVC, Tyvec® , foils, UV coats, varnish, and some metals with fast dry time is needed.
Sirius (TSK250003)
Formulated to print onto the same difficult substrates as the Solv-Jet (TSK2300), with the added benefit of increased adhesion. Compared to our Solv-Jet solvent ink (TSK2300), you can expect improved long-term recovery, higher optical density, and adherence to more substrates.
Achieve Higher Throughput and Quality
Up to 300-feet-per minute
600×600 dpi (Improve ink savings with lower dpi settings)
Sigma Eclipses All Other HP 45 SI Inks
OUR NEWEST INK
SIGMA delivers industry-leading 12-hour decap, deeper blacks & longer shelf life
Explore SIGMA
Decap of at least 12 hours
Shelf life up to 24 months
Fast, no-heat curing
Richer blacks
No minimum order
Unlimited supply
Lightfast, waterproof
Durable
Ink Availability and Packaging
Sigma solvent ink and other Kao Collins inks are available and ready for shipping. All inks are packaged in factory-new intelligent HP cartridges. These clean, self-contained, user-replaceable cartridges reduce volatile organic compounds by about 10% compared to solvent printing using continuous inkjet (CIJ) systems.
Our HP inks are also available in bulk configurations. Kao Collins's Bulk Supply Station provides a simple and flexible alternative to single inkjet cartridges for high-volume printing applications.
Tyvek® is a registered trademark of DuPont™.