CINCINNATI, OHIO – July 13: Now there is help for identifying inkjet ink options for label and narrow web printing.
Kao Collins Inc., a leading manufacturer of industrial inkjet inks, launched "InkAnswers," a comprehensive digital search tool that matches inks with substrates used in label and narrow web production.
InkAnswers.com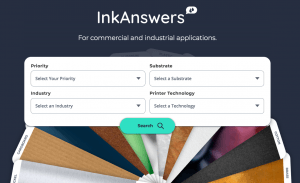 simplifies the process of identifying which inks are compatible with printhead technologies and materials, including flexible packaging, foil, shrink sleeve film, and variable facestock. Inkjet inks are a fast-growing need at a time when more companies are turning to industrial inkjet printing for marking and coding, security, and brand packaging.
Stephen Buchanan, the Kao Collins Inkjet Business Manager, said, "It's the right time for InkAnswers because the number one question we hear converters asking is 'What inkjet ink should we use for this substrate?' There are many variables when choosing inks. It gets complicated quickly."
Printing converters looking to expand their printing capabilities into other printable materials can use InkAnswers to identify those substrates that can be produced with their existing printhead technology and inks.
Users of the tool can refine and filter their search based on the printing technology, substrate materials, or industry selected. The results feature each ink's characteristics, benefits, and other possible substrates that could be printed with the ink.
InkAnswers offers quick results for some of the most common printing needs, such as sustainability, reducing ink migration, reducing downtime, and more.
"We are confident InkAnswers will build more awareness of industrial inkjet printing capabilities and the versatility provided by inkjet inks and technology," Buchanan said.
Contact Kristin Adams at kadams@kaocollins.com for more information about the Kao Collins.
ABOUT KAO
Kao creates high-value-added products that enrich the lives of consumers around the world. Through its portfolio of over 20 leading brands such as Attack, Bioré, Goldwell, Jergens, John Frieda, Kanebo, Laurier, Merries, and Molton Brown, Kao is part of the everyday lives of people in Asia, Oceania, North America, and Europe. Combined with its chemical division, which contributes to a wide range of industries, Kao generates about 1,500 billion yen in annual sales. Kao employs about 35,000 people worldwide and has more than 120 years of history in innovation. Please visit the Kao Group website for updated information.