Kao Corporation has been recognized, for the fourth consecutive year, as a Supplier Engagement leader for its initiatives in reducing carbon emissions and tackling climate change across its supply chain by CDP, an international non-profit organization that drives companies and governments to reduce their greenhouse emissions.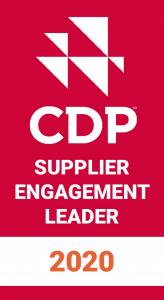 Recognizing its responsibility as an enterprise that provides products which people use on a regular basis in their daily lives, the Kao Group takes active steps to reduce the environmental footprint of its products throughout the entirety of the product lifecycle. In April 2019, Kao launched the Kirei Lifestyle Plan, its ESG (environmental, social and governance) strategy, which incorporates 19 key leadership actions. By integrating ESG into the core of its company management, Kao will drive business growth and better serve consumers and society through its enhanced products and services.
CDP rated over 5,500 companies worldwide, and assessed their supply chain engagement strategy, including carbon emission and climate-related risk reduction strategies across their supply chain. The evaluation was started in 2017, and CDP named almost 390 companies, including Kao, on its fourth annual Supplier Engagement leader board this year.
Kao, together with its suppliers, will continue to deepen its understanding of climate change and of the risks and opportunities regarding water and forests, so as to reduce carbon emissions across the product lifecycle. Kao is committed to implementing its unique ESG activities globally for the wholehearted satisfaction and enrichment of the lives of people worldwide and to contribute to a sustainable society.
CDP
CDP is an international non-profit charity based in the UK that creates engagement on environmental issues such as climate change. It operates a global disclosure system for major companies and cities around the world to release how they take action on climate change and manage water resources. It then surveys and evaluates the companies and cities with the support of institutional investors, and is one of the most trusted assessment organizations among investors.
About Kao
Kao creates high-value-added products that enrich the lives of consumers around the world. Through its portfolio of over 20 leading brands such as Attack, Bioré, Goldwell, Jergens, John Frieda, Kanebo, Laurier, Merries, and Molton Brown, Kao is part of the everyday lives of people in Asia, Oceania, North America and Europe. Combined with its chemical division, which contributes to a wide range of industries, Kao generates about 1,400 billion yen in annual sales. Kao employs about 33,000 people worldwide and has 130 years of history in innovation. Please visit the Kao Group website for updated information.