Retrofitting with print modules takes center stage

New Kao Collins inks offer superior durability, water-fastness, and light-fastness

See a video featuring highlights of the event
CINCINNATI, OHIO – JANUARY 8, 2020: The first Kao Innovation Day, held in mid-November in Barcelona, Spain, didn't disappoint. The event highlighted revolutionary digital printing solutions that add exceptional printing value to inkjet printing while reducing costly downtime.
Kao Chimigraf hosted the event that attracted representatives from 22 companies based in 6 different countries. The event showcased the Kao Collins X-BAR, a high-quality, high-volume, high-speed, single-pass print module. Also, two multi-printhead systems manufactured by Colordyne Technologies, one using aqueous pigment and the other using UV/LED inkjet inks from Kao Collins, were also shown by Kao Chimigraf, the European partner for both companies.
Aqueous pigment inks work with a wide range of applications, including packaging that must comply with safety regulations that require low migration properties.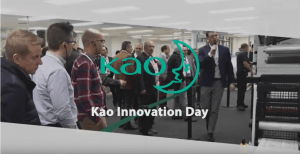 A video captures the highlights of the day-long event at KAO Chimigraf's new printing demonstration center at the Barberà del Vallès facilities.
The X-BAR and multi-printhead retrofit solutions are designed to retrofit existing printing equipment.
Speaking about the Colordyne system's output quality, Taylor Buckthorpe, Director of Sales, said, "With the new advancements that have been made in the new Memjet technology, we're seeing superior water-fastness, superior light-fastness, and better scratch, scuff, and rough resistance–and that's largely due to the folks at Kao."
The X-BAR, Colordyne equipment, and inks featured at the event demonstrated that industrial inkjet printing rivals traditional printing while offering unique customization and personalization.
"Our partnership with Colordyne demonstrates our commitment to delivering the best solutions to our customers," said Kristin Adams, Marketing Manager at Kao Collins.
Guests left the event knowing that Kao's innovative inks and retrofitting printers realistically achieve greater performance for printing companies, deliver more value for customers, and eliminate the need for capital investments in all-new printers.
Contact Kristin Adams at kadams@kaocollins.com for more information about Kao Collins.
Websites: kaocollins.com | kaoxbar.com
Case Study: Colordyne-Kao Collins Hybrid Partnership
Kao Group
Kao creates high-value-added products that enrich the lives of consumers around the world. Through its portfolio of over 20 leading brands such as Attack, Bioré, Goldwell, Jergens, John Frieda, Kanebo, Laurier, Merries, and Molton Brown, Kao is part of the everyday lives of people in Asia, Oceania, North America, and Europe. Combined with its chemical division, which contributes to a wide range of industries, Kao generates about 1,500 billion yen in annual sales. Kao employs about 35,000 people worldwide and has more than 120 years of history in innovation. Please visit the Kao Group website, www.kao.com/global/en/, for updated information.
Kao Collins, Inc.
Kao Collins is a leading provider of industrial inkjet inks. Through the development of eco-friendly solutions, Kao Collins seeks to maximize opportunities where inkjet can provide value and facilitate growth. Since 1990, the company has introduced innovative solutions that enable customers and OEMs to reduce costs, increase productivity and expand offerings to various markets – graphics, commercial print, packaging, labeling, and consumer products. Visit www.kaocollins.com for more information.
Kao Chimigraf
Founded in 1970, Kao Chimigraf is a worldwide leader in the production of inks and varnishes for flexography, rotogravure and digital printing systems. Headquartered in Barcelona, Spain, the company develops customized inks for corrugated cardboard, flexible packaging and narrow web markets. Visit www.kaochimigraf.com for more information.
Colordyne Technologies
Headquartered in Brookfield, Wisconsin, Colordyne Technologies is a leading manufacturer of efficient, high-resolution digital print solutions. Colordyne is committed to providing on-demand label and tag color inkjet printers for a wide range of applications and industries at breakthrough speeds and cost-effectiveness. Colordyne's wide range of digital color platforms – from benchtop industrial color printers to complete, in-line finishing production presses – demonstrates Colordyne's specialization in scalability of the industry's most versatile products. Visit www.colordynetech.com for additional information.