Inks for Labels & Narrow Web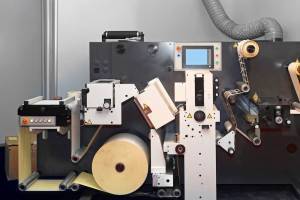 Kao Collins produces a wide range of industrial inkjet inks specially formulated for the many substrates used in narrow-web industrial printing systems.
Our high-quality industrial printing inks for thermal, piezo, and continuous-inkjet systems deliver higher performance faster, reduce carbon footprint, and meet industry regulatory and traceability requirements.
Inkjet Inks for Printing on Major Label Facestock Materials
Designed for high-quality demands, brand manufacturers turn to Kao Collins when choosing the right ink(s) for a wide variety of facestock materials, printing conditions, and narrow-web printing applications across various industries.
Contact Kao Collins for any of these inks:
Water-based Inks – Kao Collins manufactures standard or customized water-based dye inks and water-based pigment ink formulations suitable for porous or coated paper facestock.
LUNAJET  – Our patented, eco-friendly, and food-grade LUNAJET ink is a water-based pigmented ink that produces extremely low amounts of volatile organic compounds (VOC) emissions. It remains flexible without cracking or peeling when printed on non-porous film facestock and shrink-sleeve labels.
Water-based Security Inks – Our high-quality water-based security inks offer invisible and fluorescent options to provide tamper-resistant solutions when printing on a variety of label facestock.
Solvent-based thermal inkjet inks – Our highly durable solvent-based inks deliver rich colors and superior results appropriate for labeling, marking, and coding non-porous substrates such as film adhesive facestock, foils, and specialty labels.
SIGMA Solvent  Inks for HP – Our SIGMA solvent ink for HP is a fast-drying, heatless ink that delivers 24-month shelf life with a 12-hour decap. It is suitable for printing laminated papers and films, metals, and other non-porous labeling materials.
NEXXO Inks for Funai – Our low-maintenance NEXXO line of inkjet inks for Funai technology offers greater printing efficiency to meet production demands, especially when printing on curved surfaces. These high-resolution inks are best for industrial printing on non-porous substrates, including metal, plastic, and laminated facestock.
ULTRA UV-Curable Ink – Our ULTRA UV-curable ink offers instant curing, high print quality, adhesion, scratch resistance, and no volatile organic compounds (VOCs). These inks can be printed on a wide range of substrates, including specialty labels and shrink sleeves.
QUANTA EB-Curable Ink – Our QUANTA electron-beam curable ink offers low-migration risk and eliminates concerns about photoinitiators and heat from curing lamps. These CMYK+ inks for Piezo printing systems release no odors and are non-hazardous. Formulated as a safer alternative for food, pharmaceuticals, cosmetics labels*, specialty labels, and shrink sleeves.
TESLA LED-Curable Ink – Our TESLA LED-curable inks produce high-quality results without the risk of damaging substrates from heat-producing mercury lamps. Our LED inks incorporate the highest quality photoinitiators and monomers to deliver superior durability. Formulated as a low-energy, low-heat, and eco-friendly ink option suitable for label printing on various substrates, including heat-sensitive paper, stickers, and films.
Marking and Coding on Labels
Traceability and identification are vital parts of a brand's supply chain to protect consumer health and brand reputation.
Kao Collins' high-quality digital printing inks offer brands the flexibility to address marking or specific, customized labeling needs for food, beverage, and pharmaceuticals industries.
---
Common Industries
Suitable across a wide range of industries, Our industrial printing inks provide brand manufacturers the most cost-effective method for creating a unique customer experience through narrow-web digital printing applications.
| | |
| --- | --- |
| Beverage | Publishing |
| Cosmetics and Beauty | Packaging |
| Food | Textile |
| Tobacco | Medical |
| Pharmaceutical | Mailing Addressing |
| Automotive | |
Contact Kao Collins for Marking and Coding Inks.
With countless substrates to consider, Kao Collins can review, recommend and formulate the best ink solution(s) suitable for your narrow web printing application or the labeling facestock you're using. Contact us to speak with an expert.
*Choosing the best ink for a variety of facestocks may require testing directly on the material.
Talk to an ink expert.
Our chemists and engineers are standing by and ready to help.
"*" indicates required fields